*Yeayyy!!!* I am happy. Super happy. Head over heels. I've discovered a great things about digital scrapbooking (okeh, I might be a little bit late than others). But anyway, who cares? I've tried it before and along the way, I just gave up because I didn't find anything fun about it, but a plain bored backgrounds and embellishments.

And today, while I was browsing through this kakak FP, I was amazed by her tonnes of gorgeous scrapbook pages. With a sudden overwhelmed feeling on a digital scrapbooking (...like "I want it too!!"), I just give myself another try. I Google through the net, (most importantly, the free ones okeh?), and YES!! I got it! And I go like, saye suke! saye suke!

Anyway, I go for both now. The digital and the hardcopy. Just to keep myself on par and update with the technology, with the existence of friendster, blog and fotopages, I'll do the digital one. And will still continue with the hardcopy juge, so that I can keep it for long and treasure the moments everywhere with me. And maybe can bawak balik kampung to show it to the veterans, hihihi (by any means, they don't have access to the net.) I must be shock if my 70 years old aunty can get through the Friendster okeh.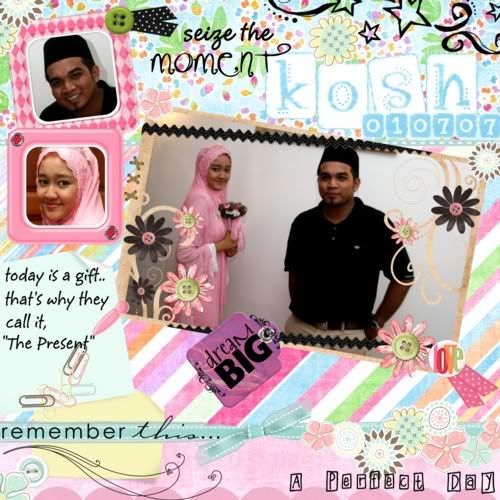 : : First outcome of my digital scrapbooking : :
UPDATE:Okeh, I tak tau nak credit macam mana for the owners of the things yang I dah copy from the web. Banyak giloooo, how could I remember every bit of it? Anyway, the things are all available for use, but only for our personal use and not for any other business purposes (well, you might this kind of reminder later if you were to download kits from the links). And eversince memang saye amat lah tak ingat owner in specific, I credit the links pun kire ok kot kan? At least people can share the resources.
(And I am always open for question, hihi) Duh, macam kaunter pertanyaan pulak, and as if la dah doploh tahun get involved. Hehehe!
[1] http://www.shabbyprincess.com/

[2] http://www.scrapadelic.com/

[3] http://www.digitalscrapbookplace.com/

[4] http://www.scrapbookgraphics.com/

[5] http://www.freedigitalscrapbooking.com/

[6] http://www.scrapgirls.com/

[7] http://www.gauchogirl.com/freebies

[8] http://www.scrapbook-bytes.com/

And this kakak is giving me the inspiration to have another try on this digital scrapbooking. Cool gile okeh pages dia. http://www.photoblog.com/zsaliza

You might need to hop from one page to another, browsing through each and don't forget to look for the freebies word. Hehehe. And most probably have to register yourself before downloading. Have fun! (I'll update more if I come across other kewlll links okeh).