34 weeks~!

"42 days to go Ma'm"

said the Ticker.

Seriously I haven't had a look at the pregnancy ticker since past few weeks and only to realize that I have a few weeks more to go before the date when a friend mentioned it to me.

Personally, if you were to ask me whether I am ready for it or nope, my answer will certainly be NO but in the same time I'm hopping for the baby to come out earlier than my EDD, like in 37 or 38 weeks.

Alhamdulillah, to date, my pregnancy has been smooth as much as I want it to be...No throwing up, no severe headache and backache, no ugly strectmark, no swollen feets and hands and no sign of false alarm till now. Sometimes I wonder, how does Mr.Braxton feels like?

But I started to feel a little bit heavier than before and thus causing me to move much slower than I used to be. Jalan pun terkedek-kedek macam itik pulang petang. But still, it doesn't seem to prevent me from doing my all time favourite activity:

tawaf-widak-shopping-malls.



Trust me, I can still drive to anywhere and everywhere that I feel like going; Pavilion, Gardens, One Utama, The Curve and still fit to walk for hours in the mall even with hands full of shopping bags. Well, of course there will be 2 or 3 cafe stop in between.

Ada sapa2 nak ajak gwe jalan-jalan shopeng-shopeng?

Hihihihi...

Anyway, that Jalan-Jalan-Tak-Reti-Penat is just a way for me to kill my time when the husband is not around. Somemore with the cash vouchers available in hand kan? Well, most of the time pun he wasn't around and definitely I am not the type who can stay at home, lazing around doing nothing for days. I would rather get myself amused seeing things in mall and get my feets tired than to spend the whole day at home.

Most likely, I managed to grab a piece or two of bargain items on shelves too. Like baby denim overall with its matching long sleeves shirt and pair of socks all for RM50, from Debenhams?! Hihihihi. Sile pegi Curve skarang, while stock last~!

Aha, suddenly this entry reminds me to prepare for my hospital bag as well as my baby bag because I haven't done any packing as yet. Too early eyh? Not even washing the baby clothings and stuff. Hohohoho...I better sort the to-do-list now and yes, I should include this little note:

"Husband, sile assemble the stroller and arrange the pick up of baby carrier with Nad, a.s.a.p".

Susah wooo bile husband busy macam Perdana Menteri.

Have I told you when was the last time he accompanied me for checkup? That was during my 18 weeks and not anymore then after.That's how busy my man is. :)
Dan lagi satu, as of my 33 weeks checkup, our little man inside weight at 2.5kg sudah. So, agak2 by 38-40 weeks boleh jadi berapa kilo?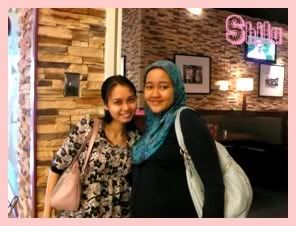 : : Lunchie with Dillot @Tony's~! She completed her MICPA and now plan for ACCA? or Master? Saiko kah kamu sayang? Sile pegi bercanda mencari boifren okeh? " : :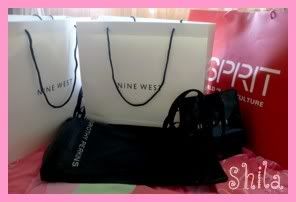 : : Sedikit kerosakan berlaku di sini. Huhuhuhuhu. Nak MJ Turnlock Faridah, but it's a bit too much for now, so ini pon boleh lah. Hihihihi : :