To my dear rakan sebaya,

Attached below are the much awaited photos ready for you to grab

(go figure how)

. Finelah finelah rakan-rakan sepermainan, please enlarge the photo and right click to save whichever piece you like.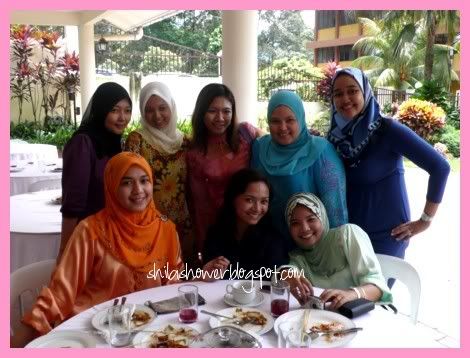 Yeah, believe it or not that they are my rakan sepermainan whom I've known since 1990! From the wonderful childhood days to mak-datok-aku-bz-gile-sile-tepon-lain-kali year which is now. From a group of girls with ponytails and pinafore-tali-pinggang-hilang and tudung-senget-kain-senteng to mommy, mommy-to-be, wife and fiance society.

And sorry sayang-sayang, I know that you guys are hoping for me to do the mukabuku thingy - pictures tagging but sadly, this lady over here is just so damn lazy to log in to her account.

Hah, Nur Liyana, kamu boleh amik piala sebab lebih maju dari blogger tegar di sini dalam dunia Facebook.

I think I could be one of the weird specimen on earth who doesn't like Facebook when everybody else does.

Kenapa saya tidak suka Facebook?

Saya pun tidak tahu. Probably because it is not as lively and lovely as my baby blog? Aah, mungkin.

Sedikit pesanan ShilaShower untuk semua,

Ayu, selamatlah untuk memproses tambahan nombor 2. Sile jalan dulu. Aku lambat lagi. Ahahahaa. Sayang peluk cium ShilaShower untuk Adam belum puas, macam mana nak bagi separuh untuk adik pulak kan? =P

Zana, take good care of yourself and your baby in mummy's tummy. Ko jangan merempit tak tentu hala pulak. Jangan makan MCD! Hahahah! MCD Taman Ehsan takper. Agagagagaga.

Pinat, caiyok caiyok! I believe Allah has better plan for you in store. =) Eyh, aku jumpa saloon cuci rambut merveles harga RM10 je kat Metro Prima area. Jom! Lagi satu, terime kasih cakap aku kurus sikit. Walaupun sikit tapi tetap semangat tau aku nih. Kuikuikui.

Liyana, jadi cikgu baik-baik. Or mungkin aku patut cakap, ko jaga diri baik-baik. Sebab anak murid ko ganas-ganas semuanya. Hati-hati, jauhi kanak-kanak karnibal, nanti kena geget.

Mizah, cuba ko cari life di luar lab? Cukup-cukuplah hidup dalam lab tu. Hehehehe.

Wan, weyyy laki ko jumpa awek Kuching karang baru ko tawuuu. Pegi kawen ikot je dia duduk sane. Takde makna duduk sorang kat Semenanjung Melaysia neh. Hehehe.

Ina, nantilah aku kumpul duit pegi UK, aku anak beranak tumpang duduk rumah ko. Ahahhaha. Saving la katakan.

Dr.Rohaida, wahhh tibe-tibe je ko sorang ada title kat depan. Tapi takpe. Eyh, aku nak kad kawen baru aku pegi kenduri. Takde kad takmo pegi. =P

Hisham and Ijad, ah malas comment. Sorang perasan Piere Andre, sorang perasan Yusry KRU. Vomit

blood

ai ni tauu. Hisham, mak aku tanya, "Hisham tu tak kawen-kawen lagi ker?" Tak Ma, sebab dia masih berusaha bagi bisnes kad dia merata-rata pada calon-calon yang dirasakan potential. Kuikuikuikui.

Humaimi, ko pasrah je lah, dah memang kawan-kawan ko tu spesis perasan kan?