To those who haven't watched Cuci The Musical but planning, please, please do so before end of this week. Best sangat! I can't remember when was the last time that we went to Istana Budaya to watch a show. Hurmmm, probably Puteri Gunung Ledang kot? Heh, tapi masa tu baru lepas clash dengan Mat Kown. Hukhukhukhuk. *Saket tekak pulak*

Apa lagi mahu dikata? Cuci the Musical is awesome! Kamu tahu spesis lawak macam tak ikut skrip? Sambil lewa dan bersahaja tapi mampu membuat seluruh dewan ketawa nak pecah perut. And Vanida, she sings very well. Tapi apa pun, suara Abang Awie ku jugak yang menggegar jiwa. Hihhihihi....

Agak-agak ada soundtrack tak nanti?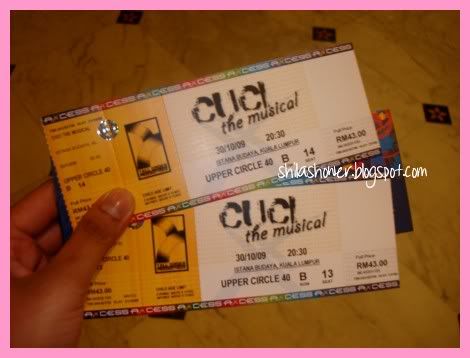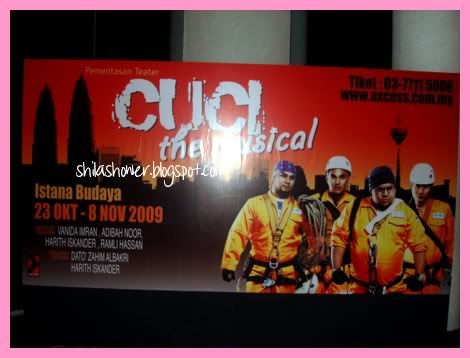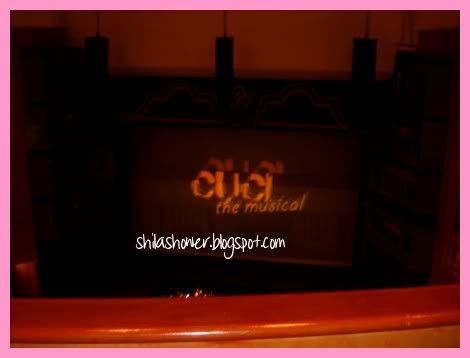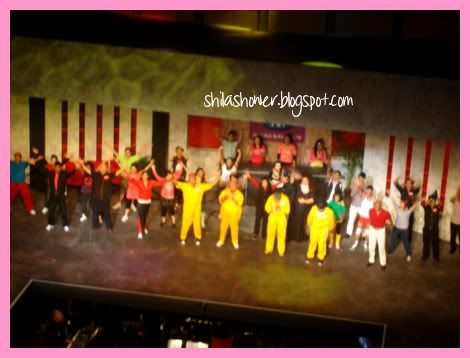 From Star Mobile:

WHO would think that a musical about four brothers who dream of washing the windows of the Petronas Twin Towers could hold water? And yet, Cuci The Musical proves that even this rather wishy-washy premise can make quite a splash when presented with gusto.

Based on the hit movie Cuci, the musical tells the story of brothers Fairil (Afdlin Shauki), Khai (Hans Isaac), Jojo (Awie) and C'Tan (AC Mizal), who own a window washing business called Cuci-Cuci Services.

In order to win a contract to wash the windows of the Petronas Twin Towers, the quartet participates in the Window Washing Olympics (WWO) organised by the lovely CJ (Vanida Imran). The brothers, however, have to face off against CJ's boyfriend Wira (Harith Iskandar), whose company Wira Maju has been winning the WWO for the past six years.

Of course, what's a story without a little romance? So, Khai and CJ find themselves drawn to each other, while Jojo and CJ's assistant Farah (Adibah Noor) find love over their passion for pisang goreng!

Cuci The Musical's strength was definitely its cast. The actors playing the four brothers had fantastic chemistry, and kept the audience in stitches with their shenanigans.

Each a star in his own right, the actors brought their unique personalities to their roles. Afdlin's deadpan delivery, Hans' boyish charm, Awie's sweet and selamba (casual) attitude, and AC's over the top wackiness balanced each other out perfectly.

The dialogue, by Harith and Douglas Lim, capitalised on the actors' rapport with plenty of hilarious one-liners and in-jokes, which the guys, of course, delivered with obvious enjoyment. It was also great fun to see Afdlin, Hans, Awie and AC sing and dance together, performing everything from the robot and hip hop to the joget.

Wira was the perfect foil to these brothers, and Harith (who co-directed the musical with Datuk Zahim Albakri) plays him with cunning glee - wait for his swing-inspired solo number in the second half, it's totally wicked!

Adibah was another gem, completely stealing the show with her huge voice and even bigger personality. Her character Farah provides many of the laughs, and Adibah deftly blends broad comedy with a very likeable presence. Her scenes with Awie were some of the best in the show, and drew cheers and applause from the audience.

Sharing the stage with these personalities may seem like a tall order, but Vanida put in a classy performance nonetheless. She and Hans were very cute together, and she showed a flair for comedy as well. Playing her father, the Tan Sri, was Ramli Hassan, whose natural charisma added a nice touch to the story.

What let the musical down somewhat was that the songs and dances didn't seem integral to the story. The songs, while not very memorable, were fun; the problem was that they often seemed to be squeezed in wherever there was space. The songs in the second act seemed particularly forced at times.

The dancing by the ensemble was missing something too. Stephen Rahman-Hughes' choreography was fresh and youthful, but the execution of the steps lacked energy and was often rather messy - at several points, the ensemble was blatantly uncoordinated in their movements.

Cuci The Musical was, however, a visual treat thanks to Raja Maliq's gorgeous and inventive set design. Whether a wooden house in Kampung Baru, a posh office space or a stylish sidewalk cafe, the sets were strikingly creative and really evoked the spirit of Kuala Lumpur.

Making great use of this canvas, the stunts really took the show to another level. The window washing scenes, where the actors rappelled down building fronts, were very exciting. The climax too, was thrilling as our heroes battled it out with Wira while hanging on "skyscrapers".

Adapting a movie into a musical is no small feat, and Cuci The Musical for the most part has done it pretty well. It is a light-hearted romp that will leave the audience bubbling with laughter.

Cuci The Musical will be staged until Nov 8 at Panggung Sari, Istana Budaya, Kuala Lumpur. Tickets are priced at RM43, RM63, RM113, RM153, RM173, RM193, RM213 and RM253; 20% discount for Visa card holders, senior citizens and students. For details, call 03-7711 5000 or browse axcess.com.my.

Pergilah tengok, tiket RM43 pun tidak apa. Sebab kamu akan rasa begitu happy dan gembira selepas itu.

Abes show, kami pi makan Maggi Sup terbaik dalam KL, dekat NZ Garden. Fuhhh, lazat tak terhingga.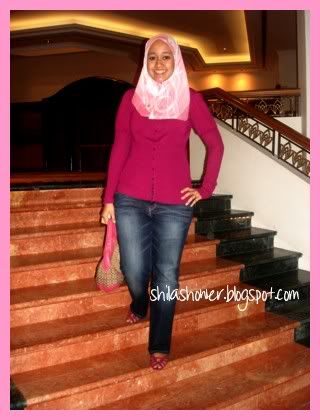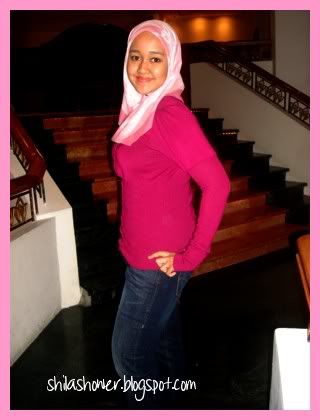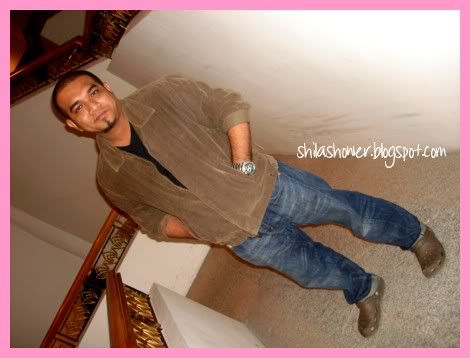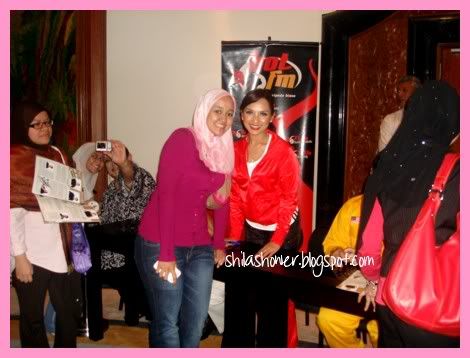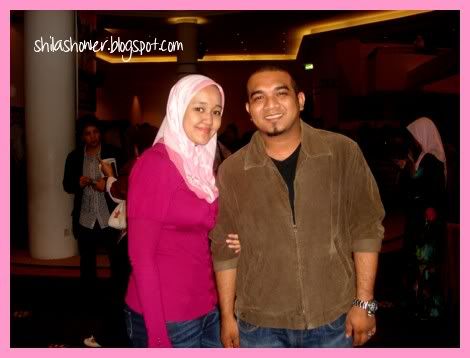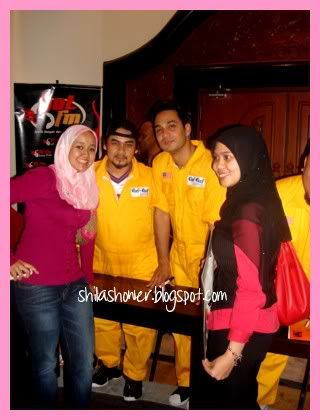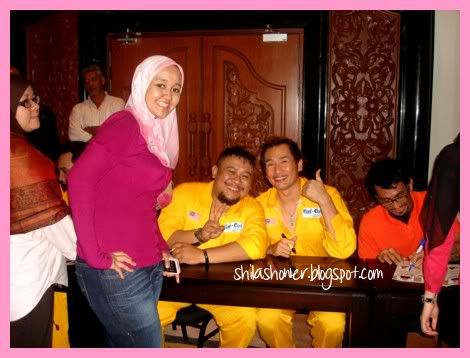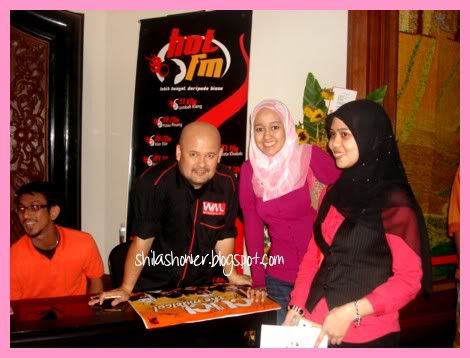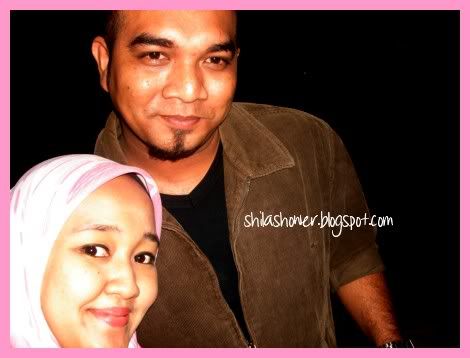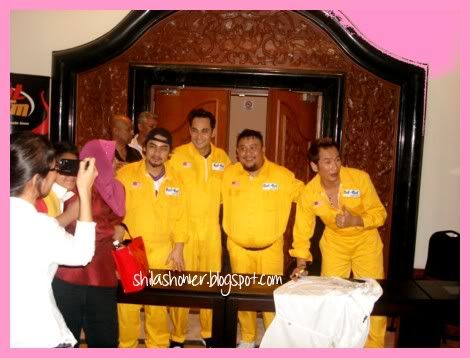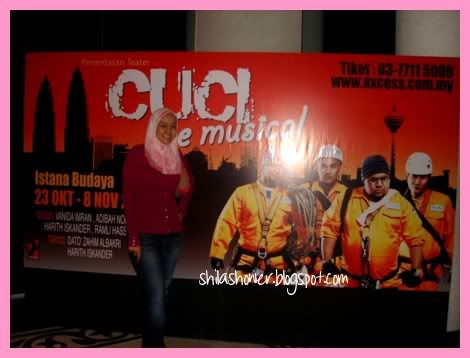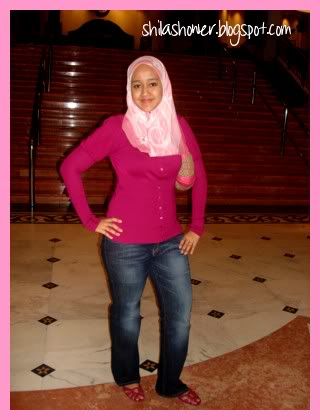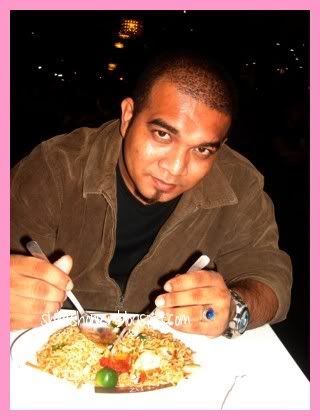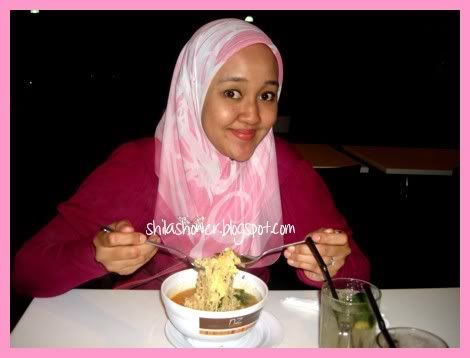 Cop! Korang redha je lah dengan laki bini yang posing macam orang takdak baby. Hikhikhikhik. Sama2 obsess nak tengok gambar, kurus ke tak. Wakakakaka. +P