Many of my readers have been asking me about this tax free shopping and requesting me to elaborate with further details. Sure, no problem :) But there is one thing that I feel need to highlight; I am not a shopping goddess who has 101 worldwide tax free shopping tips. Everything that I will share in here is very much according to my readings and my own personal experience. I'm a first timer here babes :)

*Kalau mahu lebih super extra penjimatan from what I already had, saya tidak tahu lah bagaimana*

Hihihihihi...
In Europe, most prices that you will pay for include this Value Added Tax (VAT) and if I'm not mistaken, it can be as high as 25%! And as a foreign visitor, you will entitle to claim for VAT refund on purchases that you made.
First, I shopped at places where they offered "Tax Free Shopping" service, which can be identified in the store window. Or take the easiest way by asking them whether they do tax refund or nope.
Second, I requested for tax refund form for every minimum purchase of EURO 50. I know there is minimum spending required which also vary between countries, but I'm not quite sure by how much. Hence I decided to stick to minimum Euro 50. =P All I need to do is to tell them,

"Please give me the tax refund form"

and smile.
Three, I collected and kept all my tax refund receipts in one file. Owh please do not stash your receipts into your handbag, otherwise you might have missed few of them.

Rugi woh, duit tu!
Four, there are several ways of getting my money back; Cash, bank cheque, directly credit to card or transfer money to bank account. Obviously getting back all in cash prior to my departure is the convenient for me. =P

*Owh yes, because I hate waiting*
Fifth, all items purchased need to be shown to custom officials together with original receipts and tax free forms before leaving the country. They stamped and acknowledged all my VAT refund forms once my items have been checked and inspected accordingly.
Sixth, I submitted all my stamped tax refund forms to Global Tax Free refund office that is just located next to custom office, and get my cash back instantly :) All in Euro.

*You can have it in USD if you want to*
Just a little note for a beginner like me, you can shop anytime anywhere when travelling around Europe and later claim your tax refund at the airport of your last destination. In my case, I bought my bag in France and claim my refund in Germany.
Global Tax Refund is the biggest well known VAT refund service I know as it represents 230,000 merchants across 35 countries. So, go visit their website for more info on tax refund service =)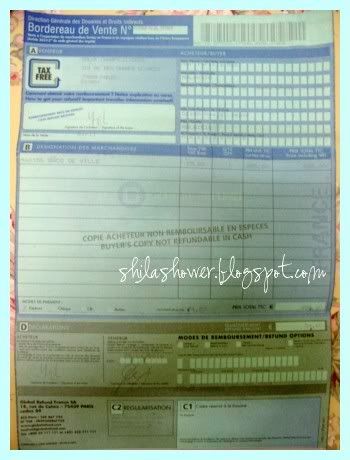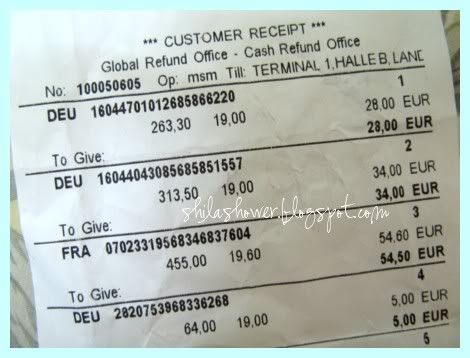 Receipt issued by Global Tax Free office, stated the amount of tax refund that I entitled for.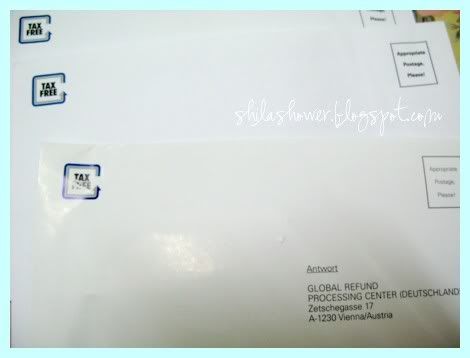 You can use this envelope if you want to do your tax refund later. But why wait when you can get it immediately kan?? :)