:: 5 N ~ M R S MJ A S I N ~ 99/00 ::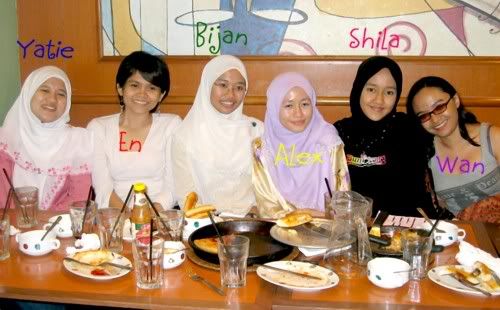 Place : PizzaHut MidValley
Time : 2.00pm ++
~*~ Me - Yatie - GG - En - Alex - Bijan - Alan - Kerol - Wandut ~*~

Sponsor : GG & Family


Hurrmmm.....The so called reunion was fun and so much fun.....Laughing + Gossiping + Pacat In Memory + Confession of En Towards ??? + Secrets Thingy.....It just that Kerol was a bit "loss"; pretending lossing his mind,maybe!.....Finally we all know how does everybody nickname came from.....Like Bijan - Just spell it backward to pronounce her dad's name.....Hehehe.....Lohe??X-rated story.....Parjoe,something that has to do with Indon.....ShilaShower - somewhere from a computer game.....

I really miss the good ol' days way back in Jasin.....I miss the class so much.....Haven't been realized that time has passed really fast and I'm getting 22 this year!!!!Huaaarrrggghhhh!!!!I can't just imagine myself acting like 17 years old student when in fact I'm going to be 22 soon.....Sad of getting older.....Life is different nowdays and its getting harder and tougher.....

And for most, the reason being me joining the reunion was to meet Alex.....Alex has engaged!!!!Most probably nikah after rayeeee~~~~Waaaaaa???Everybody was like, "Alex,ko sure nih ko nak kawin???".....And we've been asking for it like hundreds of times!!!Pity Wandut sebab kena panah petir ngan Alex.....Hahahahaha!!!!

Wan : RM6666 number setan la oiiii!!!!! ~ Rising voice mode
Alex : Itu jumlah ayat Quran la.... ~ The very sweet mode

We finally made a rank for 5N's spouses if they were to join the club - that particular people has to be ABOVE Parjoe!!!Better off physically and mentally than Parjoe.....Huakhuakhuakhuak!!!And Kerol is still with his 24/7 favourite word -- FAKOF...Hahahaha.....No wonder la dapat surat saman Alex.....

I really hope that we gonna meet again next time in a better place with better events.....Perhaps with Alex's childrens.....Hhahahaha!!!And thanks for GG & En for sponsoring us that day.....Miss you guys a loadzzzzz!!!!