Lepas fikir2, jike saye nak kawen, saye akan melangkah bendul besar. Saye ada begitu ramai abang sedare yang masih bujang trang-tang-tang. If I were to wait for them to settle down, it might take ages for that! Hehehehe....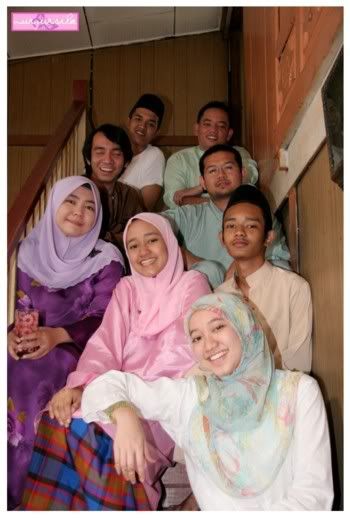 :: Cousins for Sale. While stocks last! Contact me for details. Hehehehe ::
Dan hari tu, saye ada lah bercakap dengan kawan saye. Mule2 OK, tapi after a while sungguh la rase nak marah kerane:

Orang tuh: So, is your boyfriend working?
Me: Aah. Kerja kilang.

Orang tuh: Are you sure kerja kilang? You're with someone yang kerja kilang jer ker? Tapi you kan kerja EY. (dan ada lagik la ayat2 mengong)
Me (dalam hati jer): Bodow, kerja kilang tak semestinya operator jer! Mangkok btoi. Junior engineer (R&D) okeh?.

I wonder why some people like to say, "kerja kilang jer ker?" Daaaa?? Tapi takper, gwe akan terus mengatakan bofren gwe kerja kilang, instead of mentioning the word engineer. Hehehehehe.