It has been a week since my last entry. I've been busy with things; hurmmm be it the engagement or not, I always find myself busy. Busy buat haper tah je...But anyway, alhamdulillah since I have my auntie to take care of the hantaran and berkat.
And I know that everyone is asking and waiting for the engagement pictures to be uploaded, either on friendster, blog or fotopages (I did actually on my friendster, but just a bit of it)...Eversince my name is Shila, I have hundreds of photos taken before, on and after the engagement day itself (actually dah nearly thousand!). So, I might need a few days to sort those pictures and to choose what to update and what not (and might need to reduce the size as well, tooo big for each). Hihihi....And that's NOT including the ones captured by my photographer! So sekian harap maklom, saye memang gile amik gamba.
Story No.1 - Makan2

Jalan2 cari makan is always a must to me. So every weekend kene pegik melilau cari makan (actually this is one of our fav. dating activities). And this could possibly be the main reason why he keeps put on weight (and so do I). Huhuhuhu....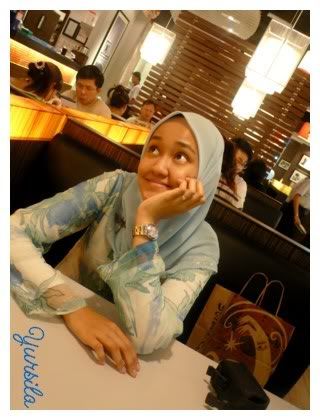 Story No. 2 - Eyes on Malaysia

Owh well, I might be a little bit late for this but it's okay, better late than never kan? Orang dah bawak tok nenek cucu cicit naik, I baru nak naik last week. Hihihihi. But the good thing of it, we didn't have to go for the long line (and not even a short one too...). Maybe tengah bulan kot? And a school holidays. Never had planned to go on it until we went for a steamboat dinner @ Nelayan Titiwangsa.

Story No.3 - Scrapbook Competition

It was such a great experienced especially having the chances to try on every single tools on scrapbooking. I can't afford to buy everything about it but to have a try on the tools has already be enough for it. (Giler nak beli Alphabet puncher harge RM800 okeh). Surprisingly, the competition was full of mamas and definitely I'm the youngest (the pink Nike backpack has already shown it). Hihihihihi~~~And proud to say, all the entries are currently terpampang kat dinding Papier (and that's including mine). Hehehe, gile glemer jap. =D

Story No.4 - My Best Friend Wedding

We've been friends since 1990 (standard 1) and has always remain together until today. I have no words to say, but a Congratulations wish to her...I feel like crying during her solemnisation ceremony, tatawu apsai...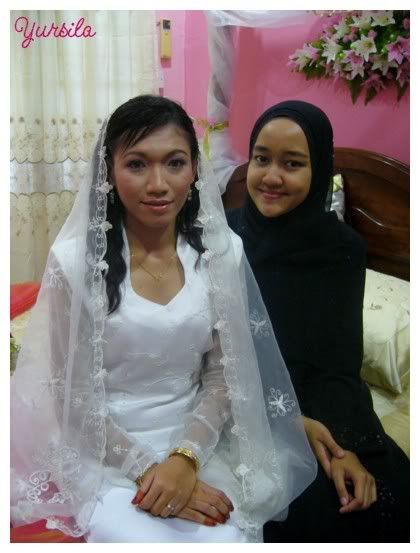 Akhir kata, saye cube lah sedaye upaye nak aplod gambar di fotopages. Sekian terime kaseh.