Okels, back to the 3 days that I spent in Penang last week. Together with Kown, Amy and super-giler-bz Siemens VDO Engineer, hehehe. I wasn't looking for any holidays at this point of time nor expecting for one but apparently, my fiance was on job assignment on 21st in Penang. And he did ask me this,

"Nak pi Penang dak? Ajak Amy jom."

I replied him with the widest & brightest smile for the day..Ehehe, why not kan? And it's on him and claimable lagik. Hehehe~~

(plus, I know that Amy is definitely looking forward for it too!).
Along the way, Kown & Amy had this

"Mari-Surprisekan-Aznal"

plan which has then turned to be

"Padan-Muke-Surprise-Sangat"

thing! Kown lepak2 dulu dengan Aznal kat Mamak as if only him was there and only 15 minutes later, Amy & Me made the surprise appearance at the table. Yes, Nal was really surprised by Amy being there but the three of us were surprised back by Nal when he said, "Oih, aku takdek sini esok. Jap gi lepas subuh kena gi HICOM Tanjung Malimmmmm..."

(And I saw the frustrated faces there - The Adores. Hehhe).

Okeh, basically Amy has loss 18 precious hours without Nal being there with us, eyh her. Hehehhehe...Fortunately he was back in Penang on the day itself but at 11.30pm and Amy goes,

"Yeayy, better late then never"

. Hohohohoho....
Owh dear, the whole Penang thing was great.

Penang-Alor Star-Penang-Queensbay-TGI Friday Dinner-Sup Hameed-ShangriLa Hotel-Park Royal Lunch-Guess Small Hobo-MNG Jeans

are wonderful. Besides, Kown and Me had this small tutorial thingy on love and relationship, specially for Nal, hahahhahah. With a full hopes that he will not

"Jalan Kaki"

but to

"Lari2"

a bit. Hihihihi. Owh dear, progress sungguh memberangsangkan! Not a big one, tapi adalah achievement nyer. Kan Amy kan?? All yeayyy to us.

(Saye nak lagik pegi holidays...)
Between, Queensbay Mall is a good place to shop okeh. The SALE is really a SALE and the items adalah cantik2 dan menjulingkan mate. Not a stupid old junks that to let go but full of choices and designs. Huhuhu, orang tak shopping sangat kot kat sane? And the Guess boutique is very welcoming , people come and go macam F.O.S jer, hihihihi...Good good, gwe pakai flipflop pun dia layan je...Not like those in One U and KLCC. Huhuhu~~
: : Starbucks, TGIF, Roxy, Guess @ Queensbay Mall : :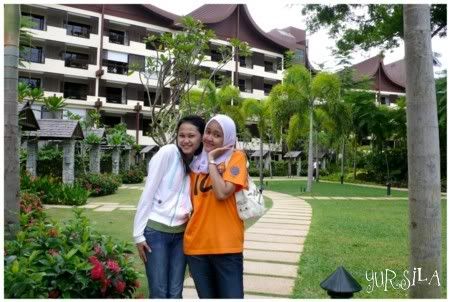 : : Morning Walk @ ShangriLa Hotel, Batu Feringghi : :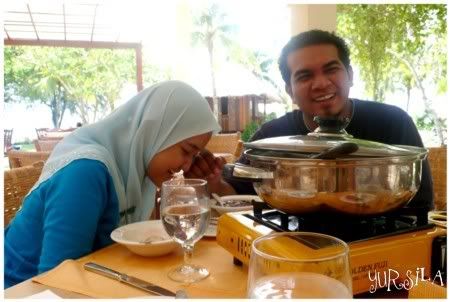 : : Lunch @ Park Royal Hotel, Batu Feringghi : :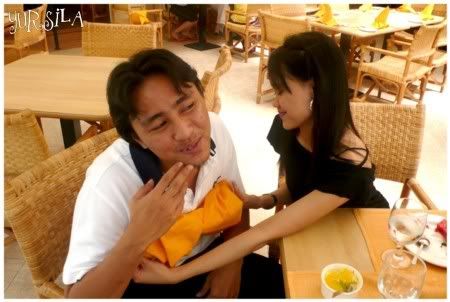 : : The Adores, gilek hape nih? : :