I'm thinking of constructing another blog for my cupcakes. I'm thinking of registring a company of my own at SSM; ShilaShower Sdn Bhd (Okeh that too much of berangan only after 11 orders). Hohoohoh, but it sounds a bit gedix je, hurmm maybe have to think of other names (but that Shower is a lucky one for me!) Hehehehe.

I got that Shower thing from a guy friend of mine which I didn't actually know whose the exact one. But I do remember that in one fine afternoon, those guys started calling me ShilaShower-ShilaShower-ShilaShower and I went like, "Shower kepale hotak korang." (and that was in form 2). Ehehehhe...~~ They said they got it from a computer game; a hardware shop game, where one the shower is named Shila. Mangkok betul korang nih.

And there was one time when I was in MRSM Jasin, during the orientation week where the seniors made a wake-up call at 3am for a ragging session (memang hot jerrr that time). So those seniors started to complain about so many things yang juniors itu lah ini lah, kerek lah, tak respect lah and ape tah je lagik (especially pointing out to JT & Mami! Hehehehe). And me kena jugak. One of the Kakaks said, "Nih lagi satu, guna nick name yang elok sikit tak leh ker?? Ini bubuh Shower! Apsal tak gune toilet bowl?" Wahhhhh, rasa nak lempang je that time okeh. Suke hati lah nak gune nama hape and what that has got to do with you kan?

But anyway, that Shower has now become auditor separa berjaye tapi stress, ahli kelab genies, pembuat cupcakes yang gedik, 2 years 5 months old blogger, graduated from Multimedia University with additional credits to be given on my MICPA. So i shouldn't be getting that "toilet bowl" name okeh, but "Shower". Shower me with prosper and happiness.
--> Eyh, I wanted to tell a story about cupcakes kan? tapi dah tuka jadi of how I got that Shower thing behind my name. Ehehehe

: : Zana (Kuktem) punya order. Untuk potential bf ker? Ehehe : :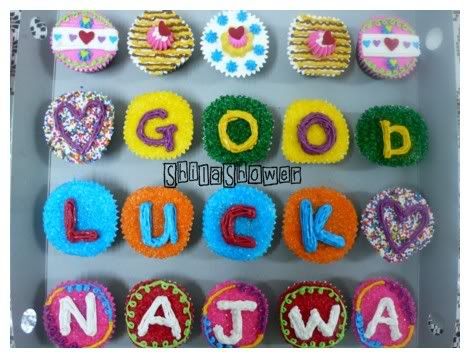 : : For my mom's friend's daughter who will be sitting for UPSR tomorrow : :