Adding more to the list: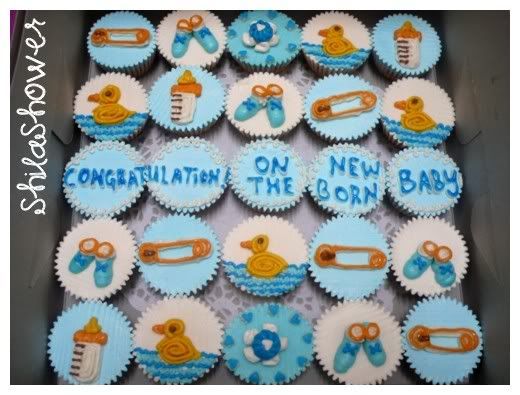 Ramai orang bertanya, "Kenapa tak buat promosi besar-besaran di seluruh pelosok internet? Or sms everyone that I know?". I've got my own reasons for that. For not promoting so much about the cupcakes on the net, as in to leave my link at others' blog/fotopages/web/etc. Anyway, among the main reasons are:

[1] As for now, I am limiting my orders per day up to 3 boxes only (be it one customer or two or three customers, boxes will only be 3). I just want to ensure that the quality and the presentation of the cupcakes are at the very best level that I can do.

[2] I will be reporting back to TM soon. 1st October 2007. And the induction programme will be held after raya and it takes two weeks of that. So at this point of time, I am not sure of how the working hours will be nor the condition of my soon to-be-announced position. Which means that are so many uncertainties if I were to accept orders for more than 2-3 boxes everyday.

As for that, from 1st October onwards, I can only accept order for Saturday and Sunday. While for weekdays, I will only consider the order if request made in 1 week upfront before the pick-up date.

[3] I'm thinking that am doing good for now. Be it puasa or not, orders are coming in. Alhamdulillah for that. But again, jangan tamak haloba, enough for the maximum of 3 boxes. And between, ini bukan sumber pendapatan utama saya, so saya tidak mahu over acting and I just want to move one step at time.
[4] I have my own promotional things to do but let time decide on which strategy to be put in action. As for now, let it solely be blog and FP. (Currently in the midst of designing my card). Ehehehe.

So what do you think?

Between, this is my so called banner. Ehehehe....nak credit to the digital scrapbook people but I couldn't remember yang mana satu I amik.