Should you wonder what the hell is favicon, it is the small icon that appear next to the web address and the tab. And when you bookmark or add to favourites the link, this little icon will actually make the URL stands out.
Finally yo, after failing in few attempts to remove the orange blogger icon, I've successfully replaced it with the little ladybird next to my blog address. Just like one you see above. Definitely I was more than happy on my new achievement in blogger tricks.
Come, let's do it together and make your blog stands out among others.
1. Create your own icon using image editing software; up to you whether you want to use the simple MS Paint or the complex Photoshop or maybe any other editing software that you have. In my case, I used my all time favourite Photostudio.
2. Create a square image/icon in size 16 x 16 pixels. Stick to a simple icon as the less detail the better. Save the icon created on your disk.

3. Ok here comes the tricky part. Before you can actually upload the icon created, you have to ensure that icon is saved in .ico format, which in most cases the software doesn't support. So, you need to download software/tool to convert your icon created from .bmp/.png format to .ico format. And I used
IrfanView
for this matter.

Download the software and once completed, open your icon created in IrfanView image editor and save it in .ico format.
4. Upload your icon created (.ico format) to your server. Sadly, Photobucket doesn't support .ico image.
5. OR the super-kacang-pis way, just go and grab your icon from
Cool Archive
because icons already formatted into .ico. Click on the image and copy the direct link to the selected icon. The drawback of this is you won't be able to have your own unique identity blogger icon. That's all. ;)
6. Go to your blogger dashboard, click layout and edit HTML.
7. Copy the following code and place it just before Head .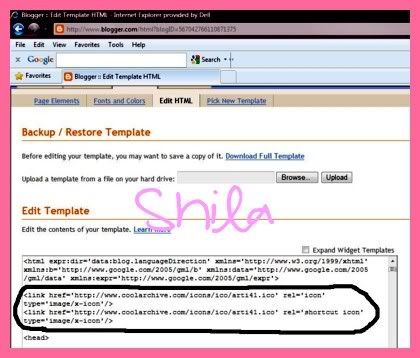 8. Click preview and wait. Yes, you have to wait because it may take some time for it to load. Finally, walla~! Your little cute icon is just next to your blog address~!
Just in case the icon doesn't appear, delete your web bookmark on Favourites and delete your cache and may want to try and load your page again.
But if it still not appear, maybe you need to Google for the solution. Hehehehhe. Sorry, because I am not that IT savvy, I just have enough knowledge for own demonstration on my blog and I am just sharing the trick in my way. ;)