Blog ini akan berwajah baru tidak lama lagi. Seriously my new header that my blog designer showed to me is super duper uber cool~! Sungguh! After few years of blogging, I've decided to hire a blog designer to custom-make my own blog layout, with my own theme.

She just sent me my new blog header and the first draft has already made me happy head over heels.

Seriously I can't wait for the whole job to take place.

I don't mind paying her in USD because she's making my own illustration to suit the theme. (Satu lagi ejen pelingkup akaun: Paypal)

Nantikan kemunculan terbaru, shilashower.blogspot.com.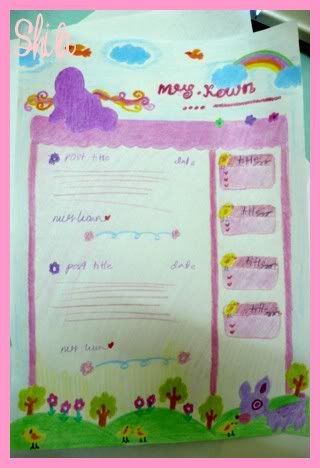 Ini draft yang I draw and sent to her tru email. Ini namanya dunia internet tanpa sempadan. Because she's on the other side of the world. :) Most importantly, my new header that she made is wayyy cuter and cooler than this.
Can't hardly wait~!