Adam had his 3mos vaccination today. Including in the set is Rotavirus vaccine which is meant to protect babies and kids from the evil rotavirus that can cause severe diarrhea. Other than that, he seems to be perfectly happy and healthy baby. Alhamdulillah. Even the doctor said that,

"He grows very rapid you know."

Yeah, I know because he seems to be a pound heavier every week. Hihihihihi. My baby is weighing at 6.4kilos now and 64 centimeters tall. According to his paed, Adam is doing good and great, hence I shouldn't be worry at all on overfeeding my little bam-bam. Just like before, he cried out loud for few seconds and immediately settled the moment doctor had done with the injection. Except that Ayah wasn't around to gelakkan anak this time. He just came back from Kuantan and reached home at 6am in the morning. Looking at him all tired and exhausted, I asked my parents to accompany me for Adam's monthly check-up. Definitely they are more than willing... ;)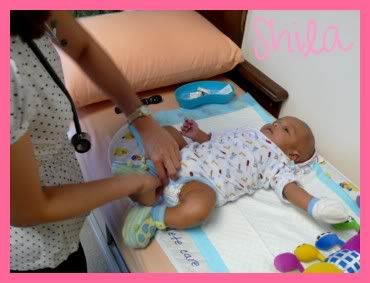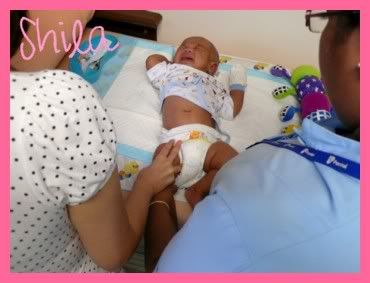 Done with the appointment, we went for lunch at one of the Lembah Pantai's famous gerai-gulai-kawah. To me, the dishes were just okay as I don't fancy gulai-kawah that much, unlike my dad and my husband

(and I'm not that expert about food tasting anyway).

Adam? He was sleeping soundly in his stroller despite of feeling hot and sweat. Just to let you know, Adam doesn't like aircond and he prefers to sleep in warm room temperature rather than air conditioned. Pelik sungguh okeh. And you know what? The owner of that gerai gave him RM5 as duit angpau. Sedekah dekat baby katanya...We had never been there before, not at all, yet she gave my son duit angpau. After all the discount on bill and free terung that my mom tapau; Son, kamu memang murah rezeki. And my mom said,

"Adam ni, merata jalan kutip duit. Ada je orang nak bagi kat dia..."

=)

*Did I tell you that Adam already has his own Visa Debit Card?

Canggihkan baby nowdays...

Reached home at 3pm after going out since early morning.

Later in the evening, I went out again with my husband to Midvalley. Who knows that my only intention to redeem my Jusco and Toys"R"Us vouchers led to another big hole in my pocket. No, it's not mine actually, it was my husband RM that he kept in my handbag. Too bad then. I sedekah already to Gap and Adams Kids. Sape suruh sale?? Ha?? Ha?? Lagi-lagi sale.

Seriously my first step into Gap was already a disaster. And my quick visit to Adams Kids has gave more impact to total damages. Naseb Adam is Adam Haris, not Adamiah Harisa or otherwise the deficit will be countless. Because all GAP's baby girls dresses are juicy and yummeh~! Free advert: Pegi lah GAP, tengah sale and sangat best melampau...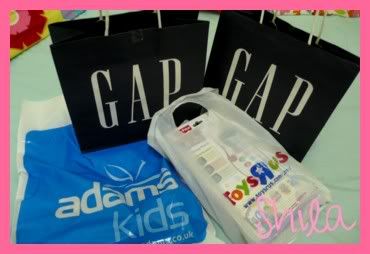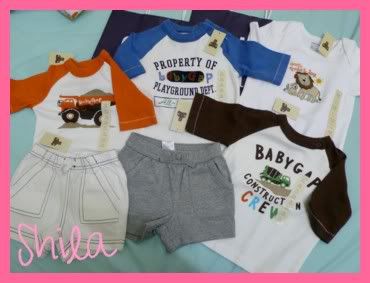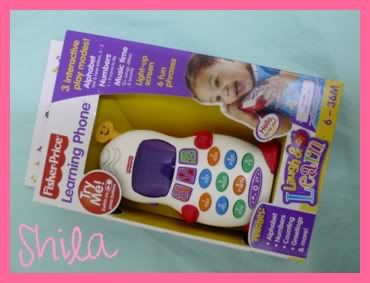 : : Handphone untuk Adam. Redeemed Toys"R"Us vouchers : :
What else? Other than lepak-ing with the Adores? I made another mistake of having Caramel Makiato. It is so addictive that I can't resist and say no to it at all. But I don't think my decaf makiato makes any different because Adam is wide awake now at 2.09AM. Hohohohohohoh. Susu rasa makiato dan memberi efek pembukaan mata yang luas. Kuikuikuikuikui.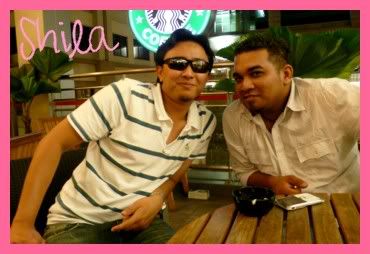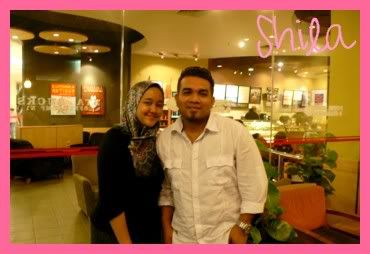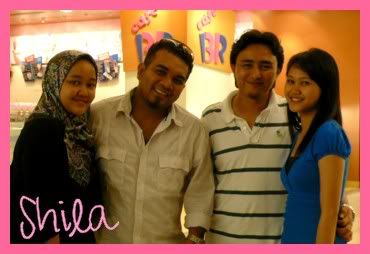 We were about to balik when I saw Huggies doing promotion on its diapers. I didn't count how much per piece it will be, but looking at the price of RM26.90 per pack for Huggies Ultra, I immediately grabbed few packs and let the daddy paid for it. And we got to bring home a bag full of Huggies free gifts including playgym~! Cool rite? All for only RM150. After all, we still need to restock Adam's diapers and this time we give a try to Huggies, after 2 months using that super expensive Mamy Poko. Rugi pakai Mamy Poko sebab Adam selalu tukar diapers, dia tak suka diaper dia basah lama2.