Slimming Sanctuary

Yes, I went there today.

Aha! I know, you must be thinking that I'm joining the thousand bucks slimming program now.

No, I am not. And I don't have that much money to splurge anyway. Nearly to EMPAT RIBU RINGGIT MALAYSIA woh to slim me down~! Finelah, mahal sebab memang comel sangat pun skarang neh =P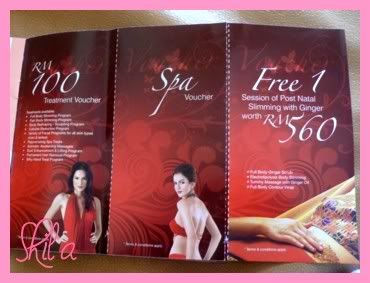 It was a free trial session and lucky me, that I found the voucher in Pantai goodie bag that I was about to throw away. Who knows that the paperbag has a slimming voucher worth RM560 because in it because I thought it contained only baby products

(baby blanket, pampers, toiletries and wipes)

and some rubbish pamphlets. Thank God that I double checked the stack and found this Slimming Sanctuary booklet.

Overall, after going through 4 hours of free trial session at La Sense, Garden, I would love to say that the treatment was great~! I lost an immediate 1kg due to that and I am more than happy now even for only 1kg.

You know why?

Because my weight has been stagnant without any movement since last month. Dem sungguh to the stubborn fat! I am freaking worry now because the scale isn't moving at all.

So, about the treatment, they started with ginger scrub all over my body and said that, it supposed to help in burning fats and to slough off dead skins. The scrub and the smell itself has gave me such a nice warm feeling before the therapeutic ingredients turned on and started to prespire me like crazy!

Next was electrolipolysis body slimming treatment. What a name lah~! I can't really observed the machine under the dim light but I remember the lady placed self-adhesive electronodes onto targeted stubborn areas on my body. The treatment is said to increase my metabolism rate and further break down the lemak-lemak-degil-yang-amat. And owh, to tone my muscle too. I can't really say that this machine do wonders to me but I can feel my skin texture is softer and smoother now

(mungkin lemak-lemak telah cair sikit, hahaha).



The remaining two were ginger tummy massage and body wrap. The former is meant to expel body wind and to improve blood ciculation and the latter is to reshape and to firm up my body. They actually wrapped my entire body using clear sheets that I am now thinking to ask my husband to repeat the same using food plastic wrap at home. Agagagaggaga. Jenuh bergulung plastic wrap tu nak kena beli kan?

I really need a slimming plan now.

And please, stop saying about the goodness of breastfeeding because I don't think it works for me at all. Well, it may do great to others but sadly, not for me. I need to do more than just bf. I'm not talking about 10kg to shed off but more, like double of it okels? With super decreasing metabolisme rate and super increasing fat composition

(as said by the machine)

I really really need to work my ass now.

But I personally don't believe that slimming centre is a good option either. Come to think of it, you pay thousands for the treatment, do it 10 times for example and that's about it. The end. Of course you have to continuously pay if you want to maintain the same slimming program kan?

I can't follow any strict diet jugak~! How meh?? I mean, I can try my best to maintain a healthy diet plan and strictly avoid the evil sugary products but I don't think this is sufficient. Unless if I do the traditional way by exercising hard.

(Start imagining myself on the treadmill in TM's gym during lunch hour. Ok, over sangat, after office hour).

But what if I extremely rindu my little sweetheart and immediately forget the whole gym story? I must have a really really strong will power if I opt for this. Again, I still doubt my ability to curb my eating. =P

What is your opinion on PB? I've read so much about it on the net and even my cousin said that PB is much better than those slimming centres. One thing for sure, you own the thing for the rest of you life and definitely the usage is not limited to only 10 times but more. Besides, it gives me more convenience in term of wearing, as in anytime anywhere rite? Price wise, it is still about the same with slimming centres. Or maybe cheaper by thousand. Huhuhuhu....

Tapi hati memang ada sikit teruja dengan ini.

=P

What else? Think think... Skarang dah buat mind map pulak. Hihihihi. What about Herbalife? Just diet mate? Will it works as good as above mentioned? Manyak susah wooo mau pikir...

I need to come with a plan and let my husband have a look on it. Because he said that he is held responsible for the outshaped and outsized event that happened to me. Kuikuikui...Sometimes, beauty does come at a cost, so he has to bear for it. And for once, I really think that this offer is better than any bag that I ever dreamt of.

What a daily struggle now for me to further shed the evil stubborn fats!