Habes!

Melingkup!

Salahkan Mothercare new outlet dekat Midvalley. Dah la besar berkali ganda

(so ofkos best gila)

and adding to the super extra yummy-licious activity is one whole rack of 60% items! Or in my case here is 60% PLUS 10% from total nett purchase.

Crazy weh! Crazy weh!

Again and again, nasib anak ku ini namanya Adam Haris. Kalau Nur Adamiah Harisa ke, memang disaat and ketika itu jugaklah account bank meletop.

I've bought 3 long sleeves shirts, 1 t-shirt, 2 jeans, 2 sets of short pants (stack of 3 each, so total 6 pairs) and 1 pack of rompers (7 pcs in it) and owh, 1 rattle, all for less than RM200! Seriously I can't afford to buy this whole lot of shirts and pants and jeans at its original price. Terime kasih Nuffnang because you just came right on time. I leviuuu..!!

*Tengok resit kira total original price jap*

Because it may have cost me RM600!

Sorry yer Adam, Mama mampu beli time sale saja. Tapi tak kisah lah kan, asalkan dapat. Anakku shirt pun satu dah RM25. Hehehehehhehe. Mothercare long sleeves shirt tu baru RM19 (60% + 10% punya pasal).

Pergi lah wahai ibu-ibu ke Mothercare. Boleh meroyan tengok papan tanda 60% tu.

Jap! Nah, take this keyboard and whack my head now.

Because my whole plan got screwed up as I didn't even buy the carrier, the supposed to be one and only reason for me going to Mothercare. Hishhh, selalu betul hilang focus. Nak buat macam mana, takkan nak biar je pandangan 60% tu begitu sahaja kan?

Tapi macam nak pegi sambung lagi lepas office hour. Agagagagagaga....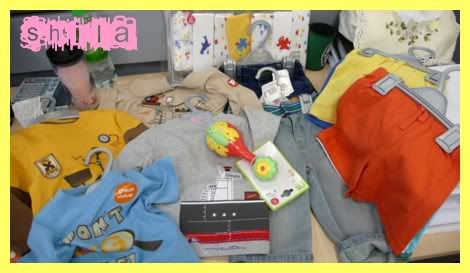 : : Kena custom check dengan Datin-Datin dekat ofis. Hehehehe : :