MomBloggersPlanet Cutest Baby Photo Contest for August 2009 has started week ago and yes, we are joining the crowd again. This round, the chosen theme is

TOYS

which is as easy as one-two-three~! And thank you mucho Madam Organiser for allowing us to post as many pictures as we like in this entry. Otherwise, I would have a difficult time to sort for one photo that I love most.

Adam Haris Bin Mohd Fakhruddin was born on 17th April 2009 and he is going to hit his month four in a week time. For the past three months, we the parents, have introduced him to various types of toys to stimulate his learning and development. Well, obviously our baby is too young to choose for one but by having different types of toys that came in various shapes, colors and functions have helped to nurture his eye and hand coordination and sensory skill.

The first toy that we first played to him was musical mobile. This Ocean Wonders Musical Mobile with Projection is attached to his crib and glad it does a great job in entertaining Adam all the time. He can easily be fascinate by the soothing lullabies and sounds, slow spinning circle and colorful fishes above his head. Most importantly, it has been very useful to take his attention away especially when he gets cranky and I believed that this mobile has helped in developing my baby senses too.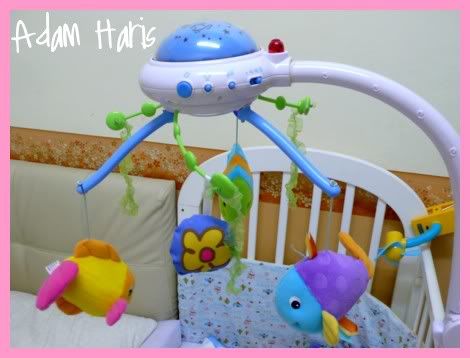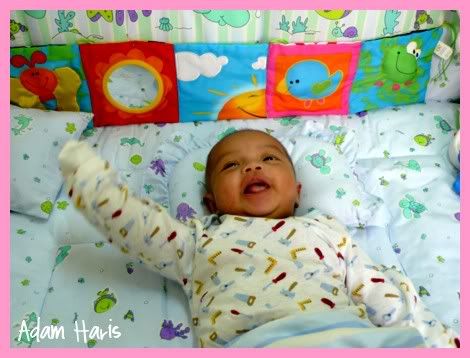 : : See? He gets so excited everytime we turned it on : :
Link-a-Doos Kick and Play Piano was the second toy that we gave to him. Adam kicking skill was developed since day one and we thought that this kick and play piano served him the purpose. The soft keys respond to his soft kick and touch in a form of sound and light. This is seriously a big hit especially on the continuous music that play several tunes over 15 minutes. At least it held my baby's attention while I get my quick shower or meal within that time. It just that Adam may need a little more time to actually figure out what is he kicking on. Nevertheless, we noticed that he seems to know that everytime he kicks, it makes music. So 100 points for you baby :)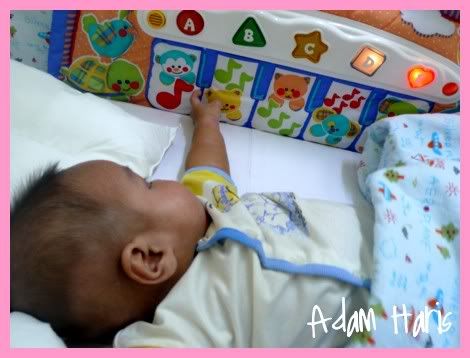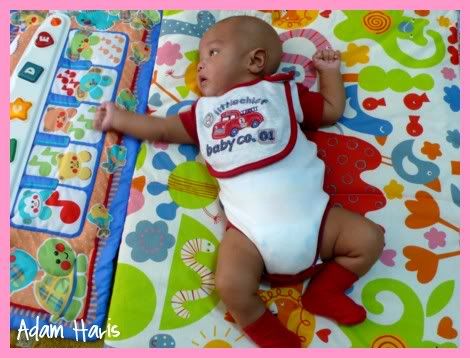 Come third in line is musical plush toy. Well, you may notice now that every toy that we bought for him came with music and tune. Okels, not all but most of it definitely. Leap Frog Counting Pal is one of Adam's most favourite toy as it offers assortment of activities on it. Bird squicker, butterfly rattle, crinkle bees, flower rings, ladybird bell and it plays musical numbers and colors and classical tunes. Again, it may take another few more months before he could actually learn and understand the numbers and colors played as well as to figure out how to press the keys in sequence. =P And I know Mr. Caterpillar holds a special place in his heart as he often smiled back everytime I turned it on.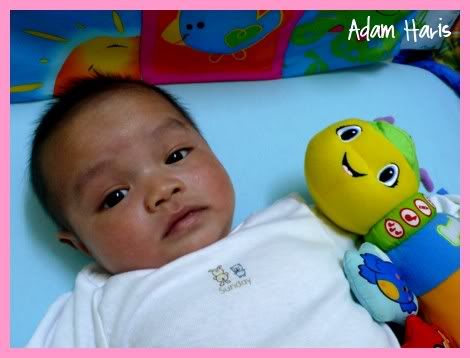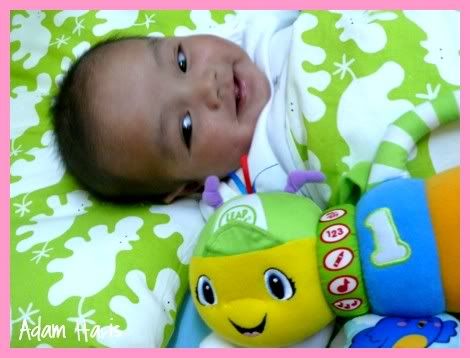 Another plush toy that Adam loves to play with is Mr. Hippo and it often be his companion everytime we went for his monthly checkup in Pantai. We bought this because of its bright colorful material as well as black and white geometric pattern on it. Just recently he learned to squeeze on puffy Mr. Hippo's legs that made this wrapper-crunching sound and jingling bell.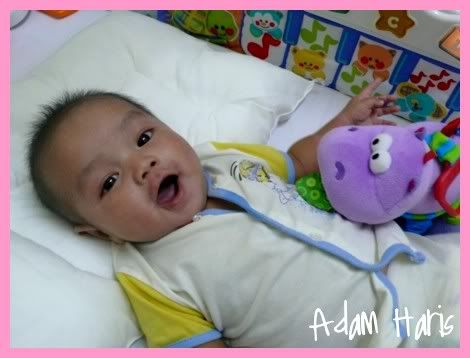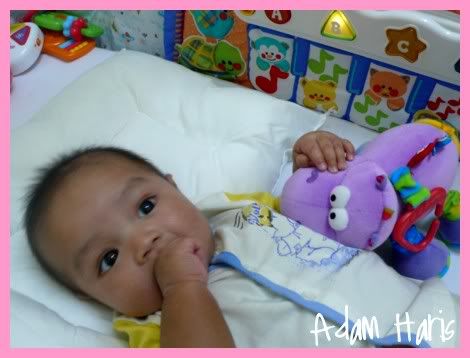 : : All time favourite activity. Hihihi : :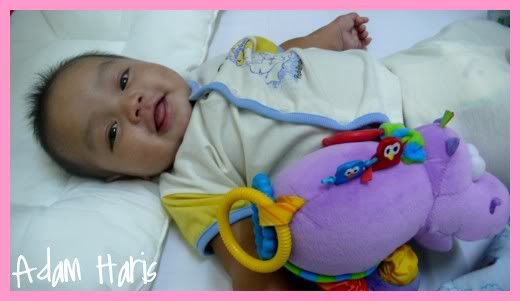 Mirror. Most babies love mirror and so does Adam. Defitely he won't realize that it is himself that he is seeing in the mirror but upon seeing the reflection he will be delighted and fascinated altogether. We used mirror to promote emotional development as we interact with him by making faces and talking to him. Most of the time, he will stay still and gaze over the reflection in the mirror. =)
On top of that, we also bought few baby soft books and considered it as part of Adam's toys. He gets excited whenever we showed and read him the book especially with the fun flap and moving part on every page. Big bright colorful images that can easily amused him and not to mention, the cloth page that is easy to chew as well. Nyum nyum!! =P Interactive books that are worth the money and definitely couldn't be damage by our 3 months young baby's drool. Hihihihi. And washable too. ;)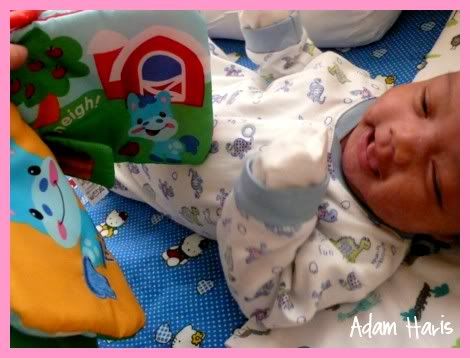 Last but not least, a play gym. This is the latest addition to our baby's toy box. This is kind of Adam dashboard for fun and play as he loves the dangling toys and mirror very much. He knows how to grasp on thing now and I believed he will master the skill of push and pull in no time with a little help from play gym. Looking at him, we know that he's aware that the object is there, it just that he need to put more effort to actually touch and pull the stuff. You go baby!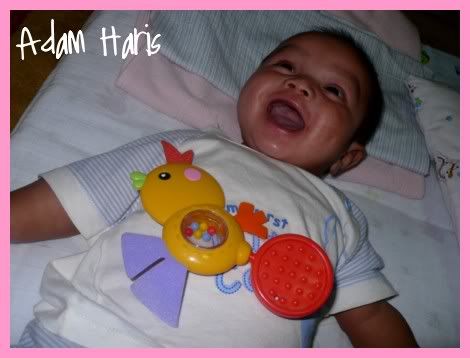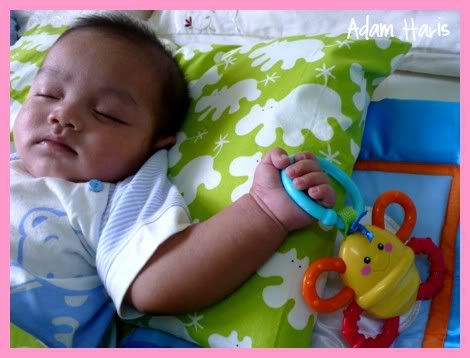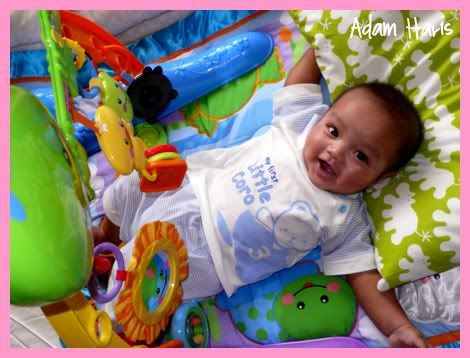 So much as I wrote about toys, it can be clearly seen that toys play a vital role in baby's life. The usage of TOYS in early childhood learning is not only to entertain but also to educate and stimulate their life long learning and development. We may never know how much each has an impact on our little darling but certainly it does to a certain degree, especially on motor coordination, emotional and skills. With toys, they learn to reach and grasp, coordinate eye and hand movement as well as feed their brains with new things and findings everyday. One thing for sure, toys will be one of the thing that babies will remember in their entire life as those are treasures of their childhood memory.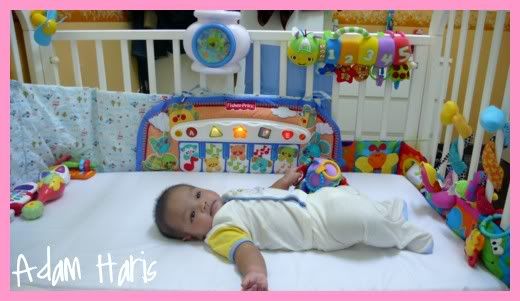 So,

Mommies out there, come and join this contest held by MOMBLOGGERSPLANET and stand a chance to win great prizes sponsored by PHOTOBOOK MALAYSIA and ALICE WONDERS! Go get your baby photo(s) with his/her favourite toys and write an entry about it now, because you will never know that this could be one of your lucky star this month. Again, don't forget to visit MOMBLOGGERSPLANET for more details on this fun-going contest and remember, it ends on 15th August 2009. So hurry up mommies!!



*Angkat tangan baca doa*

Hoping that we will win one of the awesome prizes by PHOTOBOOK MALAYSIA and ALICE WONDERS! Thank you MOMBLOGGERSPLANET for organising this great contest and

*angkat tangan baca doa lagi*

may my little bam bam get chosen as one of the cutest babies for August 2009 =)

Hurm, I can't believe that I have time to write this long. Like seriously sitting in front of my lappy and get my brain focus on this whole entry. Because for hundreds of time I've been mentioning about time constraint. Hurmmm, maybe not for tonight and not for this MOMBLOGGERSPLANET contest. Because I already missed the one held in July. Sob sob sob...