STICKY WICKY. SCROLL DOWN FOR MORE UPDATES.



I watch Playhouse Disney and speaking of which, I watch Handy Manny the tv show for preschoolers! Hihihi... And most often than not, I catch myself watching kids show over thriller or action drama/movie shown on tv. Young at heart? Nahhh!! But please tell me, that I'm not alone. =P Unfortunately, I am too old to start becoming a fan of a tv show created for preschoolers, so I will just hide behind the name of 8 months young baby Adam Haris.

Handy Manny is one of the kids program that I considered as green and clean because they don't use bad language and they don't potray negative behavior, which I believed many parents are worried most. Just like many other children's programs, Handy Manny has a lot of inspirational and good moral values in it and Manny himself always conveys a good message about teamwork and living together.

Owh ya! While I was searching for Adam's 1st birthday party theme last week, I found the printable templates of Handy Manny's party kit on Playhouse Disney webpage! Everything from the party checklist, invitation card, gift wrap, recipes, decorations, games and activities, party favors to thank your card! Isn't that great mommies and daddies? I bet this free DIY party supplies are definitely a great hit!

Anyway, thank you Nuffnang for inviting me to watch the season 3 premiere show of Handy Manny Motorcycle Adventure in its office last Friday. And I'm glad that I finally reached the place after getting stuck in the bad traffic for two hours! And muchas gracias Playhouse Disney for the awesome goodie pack! Owh I love it!

*my son is just too young to be joyful over this whole pack, so let me the one to enjoy it*

Handy Manny towel, shower gel, note book and colorful handouts

(which my son is trying to crumple it now, owh no!),

how could I not love it?


Back to the Handy Manny one hour special show, here is a short summary about it.

Manny and the tools are headed to Manny's family reunion on his motorcycle, when Pat, Squeeze and Flicker wind up separated from them! Seems like Pat has gone in search of his own family members and now finds himself in the back of a truck headed for a large hardware store outside of town.

Many races to catch up with the big truck, but encounters a number of obstacles along the way before finally reaching his trusty hammer, pliers and flashlight. With everyone reunited, they continue on to Manny's family reunion where the tools meet Manny's family and Pat realizes that he has been in the midst of his own special family all along!

Sneak peak of the scenes :)


So, don't forget to watch the premiere show "Handy Manny Motorcycle Adventure" on 22nd January, Friday at 10am on Playhouse Disney channel. :)

And catch the first episode of Handy Manny's season 3 on 29th January, Friday at 10am where Manny and his tools helped Mayor Rosa to conserve water in Sheet Rock Hill or when they helped Mr. Lopart with Sheet Rock Hill's New Year's Day celebration. So, let you little one(s) enjoy the whole new adventure and give them greater understanding of how to navigate through life's minor turmoil and reach one's goal.

Enjoy!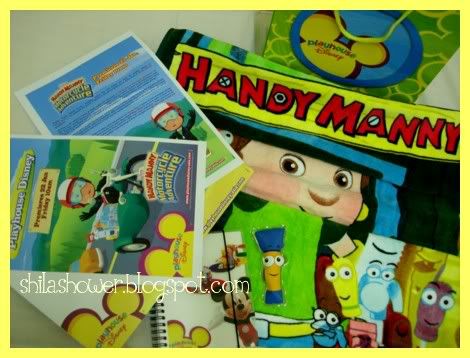 Awesome Handy Manny's goodies!
With four other bloggers during the premier show :)