We took our little young man to Aquaria KLCC last two weeks, so that he can explore the underwater life more than just seeing a fish in small aquarium.

*Balik-balik masuk kedai ikan je kan, bosan jugak, hihihii*

We had a great time there looking at the beatiful sea creatures and even I was amazed in seeing the huge sharks in the giant tank.

To me, if you are looking for an indoor attractions in KL, I think this is one of the great places to visit. Very fascinating, very interesting especially for the kids. BUT, the price is too pricey especially for a moderate income earners with lots of kids. Even if you are using MyKad, the price will still be RM28 for adult and RM22 for children. Isn't that expensive if you are a family of let say, five? That's a little bit too much for a family outing lah kan? Belum nak makan minum jajan bagaikan? =P

So, back to the Aquaria journey, we were first greeted by Piranha, the omnivorous freshwater fish that were housed in the glass case near the entrance. Next was the rainforest exhibits such as snakes, frogs, butterflies and few other reptilias which we didn't even bother to stop and take a close look at it.

*Boring kot? Biasa je*

=P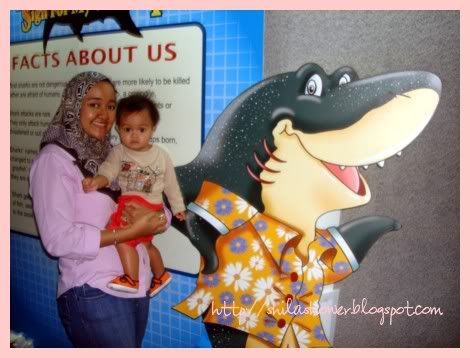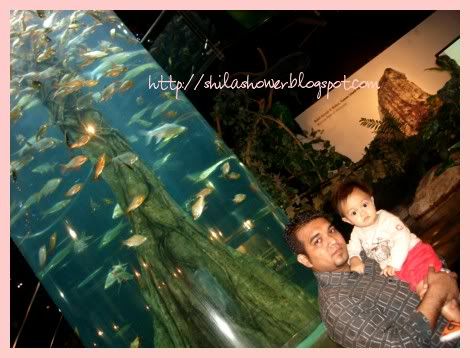 Of course the main attraction of Aquaria is the giant underwater tunel, housing many species of undersea creatures. We were amazed by the numerous sea life swimming just above us. Adam was like, "Aaaaaa" and "Aaaaaaa" and "Aaaaaaa" with his big round eyes.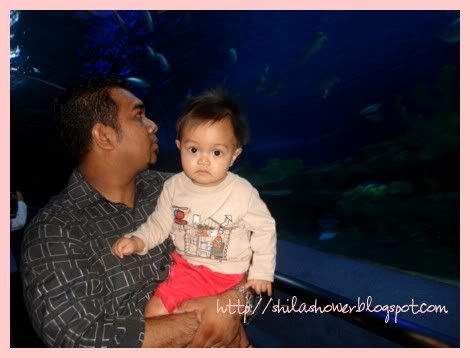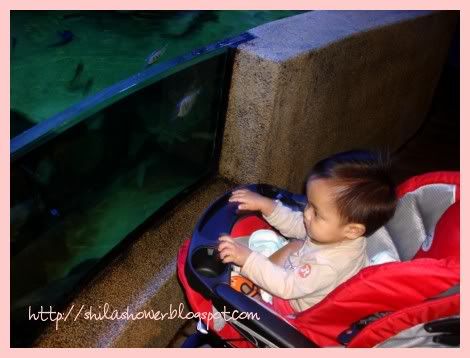 However, we didn't stay for the sharks feeding session because of the crowd and for that, I don't think we can get to see much of what is going in there. So we moved on the smaller tanks, displayed few others marine kinds before ending up the visit in the souvenir shop. :)
*With all the excitement, I forgot to take pictures of the beautiful marine life espcially the huge shark and gigantic catfish!
Getting there?

AQUARIA KLCC
Kuala Lumpur Convention Centre Complex,
Kuala Lumpur City Centre,
50088 Kuala Lumpur, Malaysia.
Tel : +603 2333 1888
Fax : +603 2380 0069

Opening Hours:
11.00am to 8.00pm daily

Admission Fees
Adult RM38
Child RM26
Adult (MyKad) RM28
Child (MyKad) RM22
Senior Citizens RM18
Infants FREE :)

For more info, visit
Aquaria KLCC
website.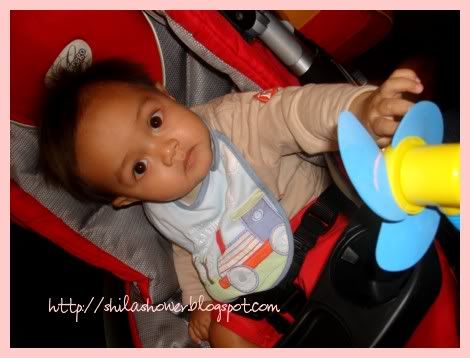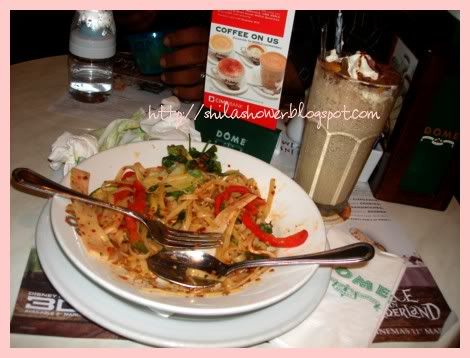 Tea time dengan Spicy Olio Paste, hehehe