Things have not been good since last week; body health in specific. After one another, now I'm here blogging in my hospital bed at 3.40am. I've been down with fever and shivering with cold since last Monday but not showing any sign of improvement even after taking the medication. So, that's why I'm here, under good care and close supervision of doctor and nurses in PMC. I have nothing good, nothing interesting to share but I still want to write an entry, at least to keep my blog alive. =P With a big hope that I will fall asleep immediately once I publish this post.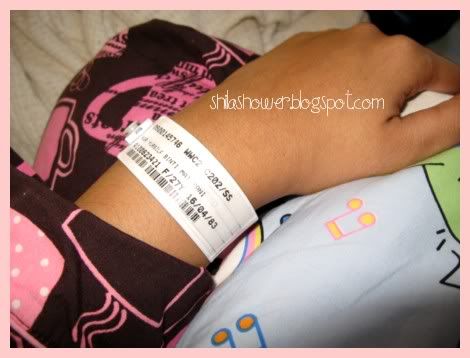 Help!!! I can't sleep! I have trouble falling asleep, not just tonight but since last few days. Am I experiencing pregnancy insomnia or something like that?

*if the term exist, haha*

Plus, my back pain, persistent heartburn and belly discomfort are making it worst than I ever expected.
I'm bored! I've been watching Spaceballs - Bangkok Dangerous - The Hottie & The Nottie - Finding Amanda - P/S I Love You - Meet Dave - Slumdog Millionaire since afternoon but it's really something that I haven't done in the last few years!
I miss Adam Bam Bam so much! It's like I'm hearing a voice in my head saying Nyum! Nyum! Nyum! Sesuatu sungguhlah Adam Haris nih. Or probably he's the reason that I can't sleep tonight, because I'm missing him terribly. Sobsss...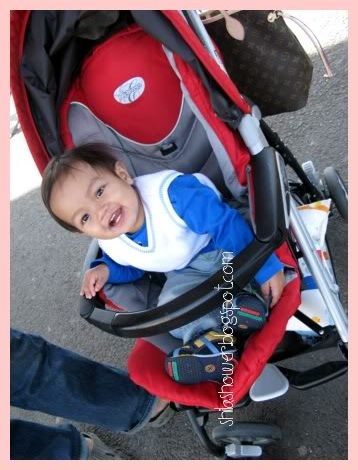 Here, someone is sleeping on the floor tonight and this is not the first time doing it anyway. Berlapikkan comforter bawak dari rumah, yang penting dia ada untuk teman anak atau isteri yang bertapa di hospital. Isn't he the sweetest? So untuk mereka yang mencari calon suami, make sure one of the criterion is sanggup tidur di atas lantai hospital bila keadaan memerlukan. Hihihihihih. Ini namanya ujian susah senang together-gether. Eyh, tapi janganlah cari yang nama Mohd Fakhruddin Bin Md Noor Bin Abd Rahman pulak! =P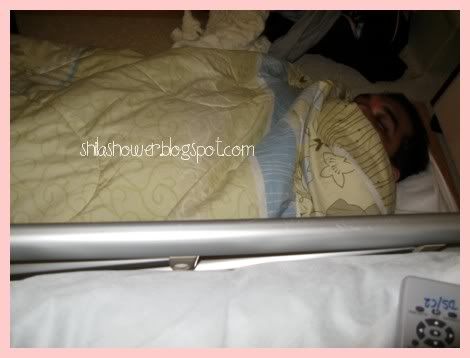 Ok, seriously I need to stop now and find ways to sleep. Baby no.2 is kicking as if giving a signal,

"Mama pegi tido!!"
But eyh, I'm hungry. Sedapnya kalau dapat mozza burger dengan rootbeer float! Huuuuuu :'(