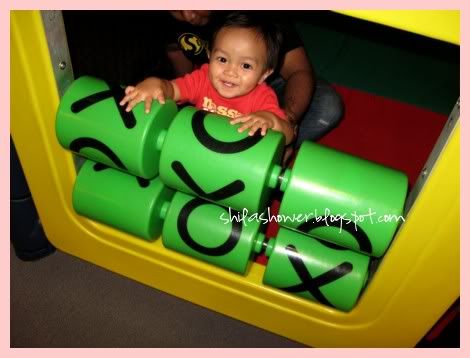 Few weeks ago (before the chronicles of demam knocked in), we brought our little boy to Kizsports & Gym, Bangsar Village because it offers the cheapest entry fee for kids below 2 years old as compared to others. Tumble Tots charged about RM60 kot macam tu but at Kidzsports, we only paid RM10 per entry for Adam Haris and all that we need to bring is socks; for both parents and baby. :)
Well, probably other gyms might offer better and greater play area for babies as compared to Kizsports but for RM10, what is there to complain anyway? I was looking for a baby swing and I thought they have one, but no they don't. But that's fine because they still have few other things to keep my baby occupied for almost an hour.
Paranoid of germs? At least the place is much cleaner than open public playgrounds and after all, germs are every where pun kan? So tak payah nak saspen lebih-lebih. We don't have much choice of where to bring Adam as he hasn't walk as yet and to us, indoor gym is the best choice for now. At least we can let him crawl and climb freely as the whole place is safe for baby and I don't have to worry on big kids trampling on him.
They have another outlet in One Utama but I'm not sure if the play area is just as same as one in BV. As for me, I still prefer BV because the mall itself is less crowded compared to you-know-how One Utama is. ;) Tapi parking rate mahal sikit lah. Huhuhuhuh.....