So, here my 14 months little boy performing solat in his way. Good try boy! At least we know that you are learning and capturing good things in life and alhamdulillah, one of it is solat. I know, it's a long way to go before you reach seven, but informal education like this is a good start to teach you about solat.
: : An attempt to sujud : :
It was quite a surprise when we first found that you know that we need to stop doing thing during Azan. You were just 10 months old that time and yet, you know how to give respect to Azan. :) You are picking up fast and I hope that all the good things you have learned so far, will stay this way :)
: : He'll do this during azan or qamat :
It just that, errrr, you always insist us to put on your so called telekung before performing your solat. Tskkk...Nevermind, you are soon to learn that "I'm Adam. I'm a boy" and a boy doesn't need telekung for solat.
So parents, I know there is a lot of things in life that we think crucial for our kids to learn, but remember, we must not forget the religion aspect too ;)
What we normally do

(because my little baby is just too young to understand the formal way of teaching)

, we spread his little sejadah and let him to pray along. Yes, he might disturb us a bit but after a while, we can see that he pretends to perform solat together with us. And yeah, as a way to encourage him more, we always praise him for each complete solat that he performs. He'll be excited and all happy when we clap our hands and say,

"Adam good boy! Adam bijak!"

I think he understands that well.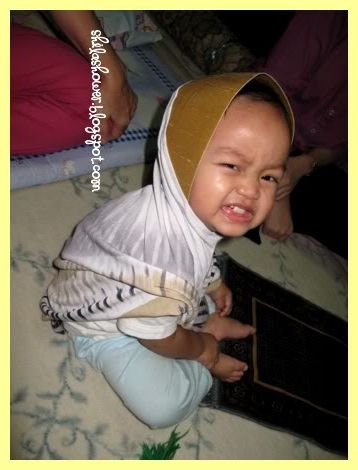 : : Marah, sejadah besar maktok pakai :
: