Yea yeahh, we are joining another contest, titled
"Gaya Si Comel Berbaju Raya"
and this time, the contest is proudly brought to you by
BabyIbu
and
Azzamoro
:)

So, for those who have kids age 1 DAY to 4 YRS, come join the fun as wonderful prizes awaiting the adorable winners! And the fabulous prizes are sponsored by: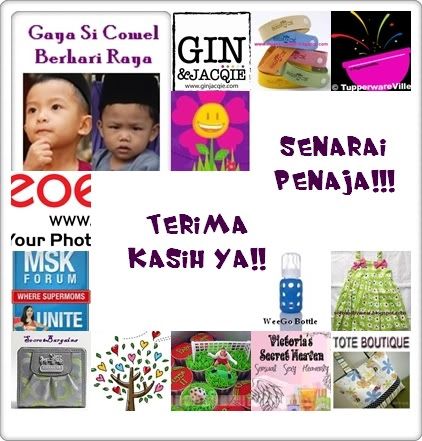 There will be two categories, each for boys and girls and owh it's
good as it broaden up the chances for you to win =P

Boy dengan boy, girl dengan girl. Sebab selalu girls sangat comel di pagi raya, with cute floral baju kurung, headband, hair clip, handbag bagaikan? hehehehhe. Boys selalunya lah, songkok pun dah senget-senget. Hihihi...

Contest has just started last Saturday, 25th September 2010 and will end on 31st October 2010. Come on mommies and daddies! You surely want to try your luck because who knows your darling baby could be the one of the lucky winners to any of the prizes offered ;)
For further details, please visit these two blogs; BabyIbu and Azzamoro :) Saya sudah, anda bagaimana? ;)