Yes, I'm talking about strawberry and orange as a milk booster

(fresh ones please).
Why strawberry and orange?
Please, don't ask me for the scientifically proven thing whatsoever because I didn't bother to google for info because all I know is to try. If it works, alhamdulillah, if it's not, then let it be. But I remember reading it somewhere, in a book perhaps, that any food that is high in vitamin C will help to increase oxytocin levels in our blood. So, mungkin lah kan.
The idea of trying these vitamin C rich fruits came from Azza's
blog entry
where she wrote about her concern on the low milk supply. So, one of her blog reader;
Arin
, commented that mandarin orange and strawberry are among fruits that can help to boost milk supply by increasing the oxytocin levels. So I tried. After all, its just fruits and definitely have nothing to worry about or to the very least, it helps to improve my digestive system. :P
Alhamdulillah, it works miraculously for me! Because I woke up this morning with a hard rock milk tanks after eating a bowl full of oranges and strawberries and seedless grapes last night. So why not you try it? Perhaps it will also work for you too :) I've tried so many foods from whole grains to dairy products, but nothing beats strawberry and orange so far. Comes next is dates and hot milk combo.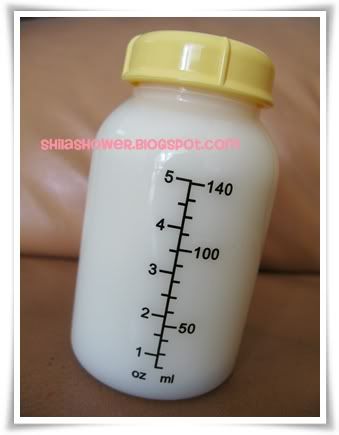 And you know what? I just hit my highest score of 6oz per pumping session this evening.

Penuh botol, sangatlah mak suka kan.

Normally it would just be up to 4oz max, so that's an increase of 2oz which is amazing enough to me. :P Let's see if the formula will work again tonight as I'm thinking to have a bowl of strawberries, oranges and dates and a big mug of hot milk.

Tengok 3 jam lepas tu jadi Pamela Anderson tak. Ekekekeke...