Nowadays, raising a child can be quite an expensive affair and it takes a lot more than just buying diapers and milk. As a parent, we always want to give the best to our children no matter how much we have to struggle for it because their future is our number one priority. Hmmppphh, sometimes we parents tends to go a little over board with it too, so prioritize it people. Prioritize.
If someone asked me, "what is my number one priority on raising my kids", I would reply "EDUCATION". Well, my kids are free to choose their way, the way that fits their interest most, but before they can do so, I really want them to receive proper education because I know they deserve it. If one of my kids choose to be a rock star, then by all means please, do so. But on one condition, get your formal education done and completed to its highest level. *Eyh sons, I bet during your time, degree is basically nothing. Probably you guys need to compete with pHd, at least* I just want them to have better social and financial standards than what we are right now. Not that we are at the unfortunate state but improving your life is good kan? ;)
But what is more worrying now is how to fund the education cost because it definitely does not come cheap. During my time which was 5 years back, accountancy course in a private university cost nearly RM80k but in 20 years time, the figure might be fourfold the cost right now. And that is what? RM320k for ONE child? I have two sons and not sure what is the additional number in the future, that is why education insurance is pretty important to them.
As you can see, education costs are getting incredibly expensive and having to rely on normal savings accounts seem not sufficient to fund and support their education needs. Besides having opened several savings accounts in the bank, SSPN and whatnot, education insurance programme is another way that I see can help to secure better financial supports for my children education. There are more ways actually, like having investment portfolios that will give big return over long period and bla bla bla but let's not talk about it, otherwise this will be like one finance lecture session.
Just a little note here, please, get a good insurance agent first before you start buying for one. *You don't want to kena tipu in the later days right? hihihi* Find someone who is trustworthy *not like over promising or something* and knowledgeable enough to provide the best insurance product that suit your needs and budget.
For us, Prumy Child Education Plan is the best to suit my kids needs. :) It's an investment linked plan that covers both education and protection for my kids. We love thing that comes in combo right? So am I. I should not start writing on this insurance in specific because you can find everything you need here. By the way, it starts from only RM51 a month and owh! start it early for a better return :)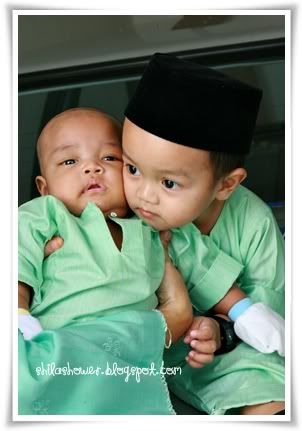 Mama wants the best for you sons :)