ADVERTORIAL. SCROLL DOWN FOR MORE UPDATES :)
Good news mommies! Here another great contest for you that me myself is pretty excited to join! I bet every mommy enjoys their mommyhood to blast right? And with everything canggih here and there, I believed your priceless moments with your little ones are captured all the time kan? So don't keep those wonderful shots in a box, or in a album or in your disk. Sort it out, choose one and share with the rest of the world in Friso Flaunt It! a contest of Friso Growing Up Together. ;) and get rewarded for it.
Seriously, don't miss the chance as awesome prizes are waiting for the lucky winners! Hello darlings, RM7000 worth of prizes up for grab and that inclusive of 2x Grand Prizes of RM2000 cash each! Tak mau kah? I want! I want!
Anyway, here a little bit more details about the contest. There are two categories running on; Flaunt Your Bump and Flaunt Your Moment. Mommies to be, let's strike your beautiful pose auwww and show your pretty cutey bump and don't forget to write a short caption to best describes your feeling of being mom-to-be :)
Not being pregnant? Worry not as you can still join and submit your pregnancy shot provided it was taken from 1st January 2009!
See, as easy as one-two-three!
And the second category is Flaunt Your Moment! and this category is open for all moms and dads with children aged 2 to 6 years old. Again, everything is easy peasy as all you need to do is to submit the best photo of you and your child also with short caption that best describes the moment. It's ok to submit the photo say daddy and son when the mother is the one registering for it. :)
Last but not least, get everyone that you know in this whole wide world; families, friends, officemates, neighbors, to keep voting for your entry in order to win the prizes. Easyy mehhhh. Use the power of email and Facebook and Twitter to let them know about it. Hehehehehe.
Hurry up as the contest ends on 28th February 2011. Tick tock tick tock the clock is ticking. Click here to submit your entry :)
But I don't think that we qualify to join the contest as my eldest will only hit two by next April. But if I were to choose one of the photos, I will choose this.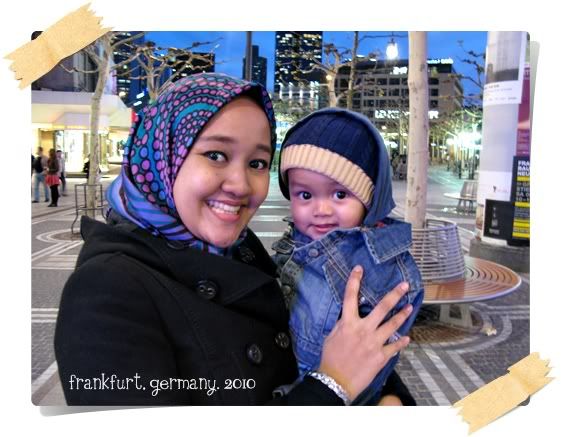 Adam's first time to foreign land :) But we accidentally left his favorite pillow and blanket in Frankfurt which I later told my husband that I have this mommy-only-instinct that our son will be going back to Germany *sometime in the future* to further his studies. Automotive engineering perhaps? ;) Don't know why, but the whole incident of tertinggal bantal busuk keeps telling me that Adam will come back to Frankfurt again... :P
Last but not least, click here for free samples of Friso Gold for your kids to try. :)