Advertorial. Scroll down for latest updates :)


Connected Tot.
From now on, you're going to see a lot more of this new smart word being mentioned in my blog. :P And I believed, after watching the video embedded here, many of us have gain better understanding of this term "Connected Tot" kan?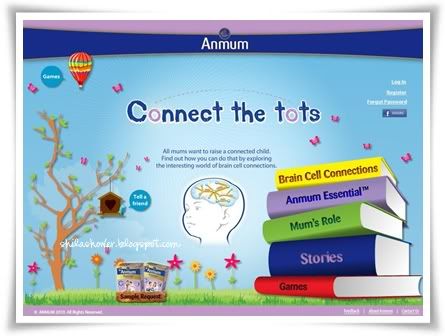 Anyway, remember the connected tots microsite that I mentioned in this post? Have you visited the site? I personally found it very useful especially on the stories and games sections. :P Because *ehemm* I'm a mommy whom constantly googling for free interactive learning resources that will both teach and entertain her little toddler. So yeah, this is one good site with free kids learning tool :)
Of course Adam was so amused upon seeing this digital book with flipping pages but I guess he has yet to differentiate between the digital and the hardcopy book. Because there were several times when he wanted to physically flip the book on his own, just like the time when he tapped my laptop screen as if it is an iPad. :P Currently there are two books available in the "Stories" section, titled Simon's Learns Quick and Remy's Magical Rainbow and both stories work as a stimulator tool to a brain cell connection.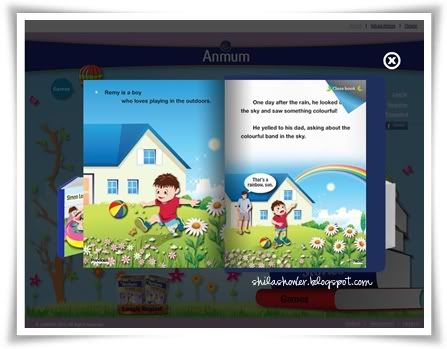 And the one that Adam love most (I bet just as any other kid does) is the game section. Again, there are two games that currently available, one for kids within age 1 to 3 and the other is for kids within age 4 to 6. The first one is "Animal Talk" whereby it helps to develop your child's ability to connect between sounds and animals. Hrmpphh, a fairly easy game for Adam but of course I'm the one who held the mouse and clicked the answer for him as he pointed to the right animal.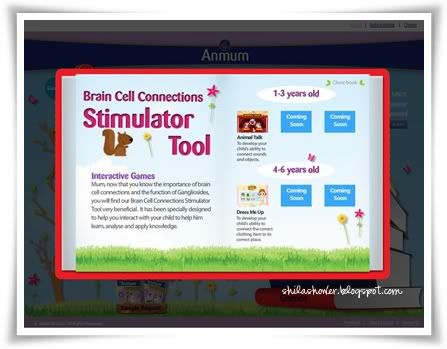 We did play the second game too! The Dress-Me-Up game. Even though it is categorized for kids between 4 to 6 years old, still the game is quite simple to be played by kids below three as it focusing on connecting and matching clothing items to the respective body part. Kacanglah, Adam pun boleh main dah. ;)
On top of Stories and Games sections, there three other topics that can be very informative and useful for you, mommies and daddies. Those are:
Brain Cell Connections, basically about what is brain cell connections, how does it works and the importance of it.
Anmum Essentials, a brief info about the nutrition.
Mum's Role, it lists down number of useful tips and guidance on how to stimulate brain cell connections.
All in all, I conclude that this microsite is very resourceful and most importantly, it's free. Free lah bagus kan? Because sometimes it is hard to find ways to entertain the little ones without emptying the wallet :P Plus the great thing here, not only the resource and tool is free, but the sample is free too. So don't forget to request your free sample here; www.connectedtots.com.my.
Last but not least, feel free to share your experience here should any of your kids have tried or currently consuming this milk because your views might be very useful to me and many others too :) Adam will be two very soon and I'm thinking to change his susu from soya based to milk based formula.