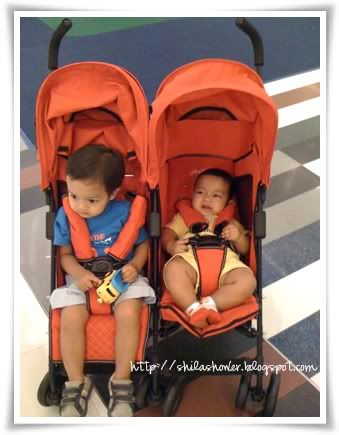 Memang dah lama fikir nak beli twin strollers demi kemudahan seluruh rakyat penjaga AH Brothers, tapi yang di survey semua ribu-ribu aja harganya. *kedekut*
Plus, we already have Peg Perego Pliko 3 super-tahan-lasak-baling-dalam-lombong-pun-masih-steady dengan Sweet Cherry light weight stroller, takkan nak buat perangai diva beli yang mahal lagi kan? Walaupun after discount price for Maclaren Techno Twin itu amat menggegar jiwa, tapi berbalik kepada kata kunci of being practical, Halford ini pun ok dah sangat. *yeay! selesai satu isu untuk trip Universal Studio nanti* :P
But the only two things that we failed to project before buying this thing is:
[1] So many stops that we have to make sebab ramai orang tahan and cakap "alaaaa comel ni TWIN. satu muka mak, satu muka ayah". Semua orang nak tengok sebab ingat depa twin. =____= Ada sekali tu, Kown replied, "Pakcik, hat ni bukan twin, ini TUANG. Pasai suka sangat tuang barang" Hihihihihi.
[2] Peluang baik Adam nak cubit peha Aiman. ~____~ Laju aja tangan tu melingkar kat peha Adik. Tidak dapat dipastikan sama ada cubit sebab jeles or sebab geram dengan peha macam drumstick ayam goreng tepung. =____=
The stroller so far adalah ok tahap perkhidmatannya. The best part is sebab recline individually, so that's good. And cheap. Murahlah untuk harga twin stroller kan. :P RM650
Kembar lain tahun. Ekekekeke...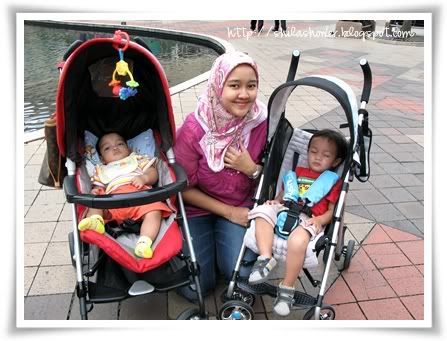 Prior to Halford, sila lah kau tolak dua strollers ini. +__+