: : What Kind Of Girl Are You? : :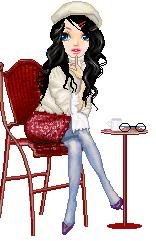 The intelligent loner. You're shy at times but friendly, and you are never weak and always independent. You are incredibly intelligent

(wise beyond your

years

)

and have a talent for many things

(sports, music, art).

You have a kind and warm personality and enjoy the simple things. Like hanging out with friends and watching movies at home. But you're sometimes quiet nature makes you a bit of an outcast and a mystery to people. No matter how pretty you are or smart or athletic, you just can't seem to break into the crowd and be noticed. Don't worry, try to be more outgoing and speak out when you have more to say. Don't hide behind your books and sports and computer, get out there and get noticed. You also have deep desires in life and feel vunerable and alone at times.
: : What's Your Inner Soul Trying To Say? : :

Your inner soul is content with the way it is. In general you are a very sweet, caring person! You love to kick back and hang out with your friends, but you also enjoy time by yourself to read a book and catch up on your studies. You love the wildlife and you can always seem to make the day better. Your lover is the luckiest man in the world because people like you are rare to come across. You love life but always still have your head in reality.

: : Where Does Your Beauty Lie? : :

Your Beauty lies in Plain Sight. Plain, simple and the girl next door. People tend overlook you as you are the "normal girl", but you're actually very beautiful. And you have plenty about you to set you apart, but more that lets you blend. People love the stability you have because as others may come and go, you will always be there and you may always be the same. You like simple things and that's what people like about you. You most likely enjoy things most consider normal, like movies, shopping, that sort of thing and are very friendly and probably have many friends. You are sweet and kind and that shows on you, but you're also strong and not very naive. You're a rather well-rounded individual. Even though some people pass you off as just another girl, shrug it off because they don't know what they're missing.

: : What Kind Of Girlfriend Are You? : :
-Sensitive- You're Sensitive, and you'd like to stay that way. Sorry,listened to a bit too much Jewel there. You're sweet and very emotionally charged. You definitely love the person you're with, and always want to know how they're feeling so you can make sure they're happy...