Happy Birthday To Kown!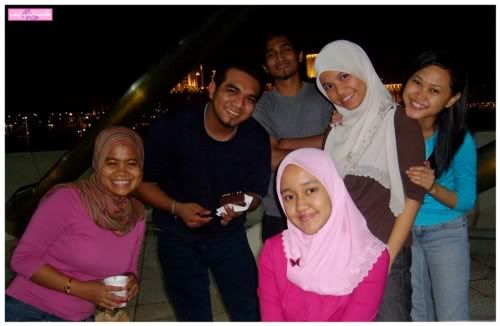 Well, I did plan for a surprise but it was only a plan...A - P.L.A.N - Everything goes cacats when he said, "Malas la gi KLIA, kita pi McD Seri Kembangan jer la bleh?" Aiyoh!! My plan was supposed to be like this:

1. To buy Chocolate Moist Cake from Secret Receipe (Ok, I bought it)

2. To invite Bae & Miju (Kown's gay partners) to help me on this matter but when the party was about to start, Bae was just in Seri Iskandar, Perak (another 3-4 hours drive to KL, I guess...) How am I going to start the party when the gay partner who was supposed to surprise the birthday boy is still in Perak? Lucky to have another gay partner; Miju, at least I can still proceed with whatever that I've planned for.... (Tho I'm lacking with another 2 gay partners; Miju and Aznal)

3. The small surprise party was supposed to be held at McD KLIA, but too bad, he didn't want to go there~~Then, I had a funny feeling that everything is just started to mess up...So, I made up my mind that McD Seri Kembangan will just be fine but not until, "Mahap la kak, drive tru jer bukak 24 hours, restoren tutup kol 2..." Demit! Maka gwe teros sms talian hayat gwe; Lin and I wrote this, "Kita selebret kat Jambatan Putrajaya jer, tempat biase..."

4. The girls were supposed to light up the candles and bring the cake to Kown but again, he spoiled the plan! He went to the car and "Eiii, ada cakeeeee! Mesti untuk Kown!" Waaaaaaaa!!! Hancus rosak sumer plan gwe! Tetapi.....

I did have another surprise for him when Miju slowly tiptoed to him and tapped on his back and, "Kown!!!! Happy Burfday!!!" Heh, at least I made one....Huhuhu~~They hugged each other and lompat2 like giler di atas jalan raye yang kosong itu....Seems like they missed each other very much walaupun baru berpisah seminggu jerrrr!!! But anyway, I am happy that I finally made the so called surprise tho McD KLIA bertukar menjadi 'Party Di Tepi Jalan Jambatan Putrajaya'...Hehehehe...And to Mohd Fakhruddin, I hope that you're happy with it as much as I want you to be happy....Greatest thanks to Miju (datang KL sampai kena tekel ngan gay kat Pudu plak!), Wan, Lin and Amy Komi....

Happy Birthday to you but I guess I have nothing much to say because my pray for you will always be there (not only when it comes to any special dates)...and I love you, always~~