Weuweuweuweu...I haven't updated my blog for ages and so many things had happened for the last two weeks...And it is all about cucuk langit things! Starting from the picnic in Bagan Lalang - KLCC (both were to celebrate Miju's birthday. Double bash for Miju) - A week at Wan's (this is totally about assignment) - Sunway Pyramids with the girls - The Curve and etc. And well, somewhere in between, I attended an interview with Ernst & Young (the 2nd one) ...
All in all, left me another 2 WEEKS to go till my MICPA Module D exam!! (Wahhh! Hidup kembali stress nih!)

Bagan Lalang - Kown, Wan & Me had planned for this and it really tooks a few days to actually came up with the details. But anyway, Miju's bestfriend knows him very well and thus, it was pretty easy for us to surprise him and...we did it successfully! I Miju was really surprise until he became so speachless when that 'someone' actually baked a cake for him....Wheee!! And the fact that he never had that so surprise birthday - beach - party in his life, has made him happy more than ever that night....We had a bbq, loadz of foods, homemade cake, guitar playing session + singing like drunken people - capturing moments - a walk along the beach at 12am - gossiping - laughing like mad and much more! Besides, I am damn proud of myself for managing to play a song to him with the guitar! Hehehe.... (Lagu bodo2 pon still lagu gak...) I guess everyone had a great night but owh, Lin's Gen2 petrol was out of tank...Can u imagine when u were in the middle of no where, with oil palm plantation both on your left and right and a cemetry as well in the plantation, the meter indication shows that you can just afford to go for another 5km more....And Kown had to go all the way to F1 to buy petrol and on the way back to Cyberjaya, jeng jeng jeng!! The moment I saw him baca all sorts of doa, I knew that he saw "something" and he actually did....

KLCC - Another surprise for Miju, but well this is specially from dot dot dot...Heh, the main plan was to watch movie and to have a tryout KFC's Chicken Chop (and it sucks! Kecik giler gaban!) Aznal was full of dissatifaction due the small portion of the chicken chop and I had somehow men-cilok seketul chicken from Kown's dinner plate....Hopefully Miju had the best birthday celebration, delivered by his bestfriends and on top of that, another slice of Starbucks Cheese Cake from _ _ _ ...Wheeee!!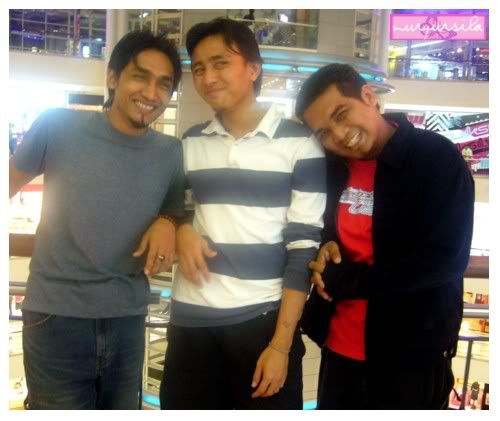 The Curve - Well, an outting whereby I jadik tiang letrik yang separa invisible...Hehehehe...But it's OK, I don't mind of being that for once...and I spent a lot on foods - I'm craving for too many things...So I ended up with Kluang Station - Starbucks - Swensens....Hehehehehe....

As for me the last two weeks were amazing and I've been pampered more than what I supposed to...Too bad that I have to be back on my normal mode and I keep telling myself, "Bear with it Shila, it just another 15 days to go, and that's it!"