I can't wait till October to at least have my 3 payslips...July-August-September..Does the half month of June counts? Anyway, I'm planning to buy a new car for myself, as in new for me, not a brand new first hand car, hehehhe...As for auditor miskin like me, I can only afford to have a second hand car and I've been eyeing on former edition of Satria since forever! A black one will definitely makes me happy head over heels~~! (I wonder if could have that R3, but welllll its not even worth a single cent of my $$$ coz I'm driving like tortoise! or even worst, ulat gonggok!) And it must be an auto car, hihihihi coz I don't how to drive manual... =D You know what my dad told me? "Bawak kereta auto serupa tak payah bawak kereta...Takdak skill~~" Sniff sniff sniff....But after a deep thinking and a discussion with those related parties, heheheh I've decided to get a Neo for me...Kuikuikuikui....Reasons being:
(1) I'm so in love with Satria for ages!

(2) The sporty looks of it and not so gurlish kind of car (if I were to drive Kelisa, Picanto and those cute cars...)
(3) I have a long legs and definitely need some ample driving space, hihihih....

(4) I have no obligation to pay on anything at the moment, so I guess I can afford to have this one...hehehe (No scholar, no PTPTN, no loan, no credit card except for shopping and parents, hehhehe)
(5) Just to look better than him, hehehhee....He's driving GTi and I want it tooooo!!!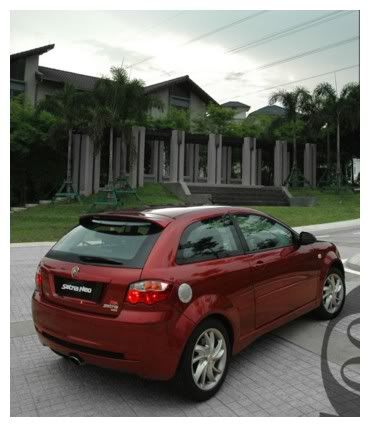 ........How long will I take to make my dream come true...?? Sighhh~~