I have tons of long awaited stories on my mind but where should I start from? Those are "Superb Convo!" - "Inquisitive Auditor Gurlfren" - "Shasha is married!!" - "Telekom Job Interview" - more to go....or should I start like.....,,,,

Pada suatu hari, seorang auditor telah pergi ke One Utama bersama bofrennya untuk pegik makan eskrem Baskins Robbins (sebab dia dah janji kalau pass MICPA Module D, kena blanja banana split Baskins). Maka dengan itu, auditor pun suruh jer bofren tu pilih eskrem apa dia nak dan dia pun bayarla bil kat kaunter. Si bofren sebok dok sedap makan eskrem manakala Si Auditor sebok dok check resit tadi...Tibe2,

Auditor: Kown, apsai Shila kena bayaq RM16.78 plok? Eskrem ni RM13.80, so plus tax baru dalam RM15.00 la at most....Ni dah lebih charge plok!

Bofren: Ala, biaq pi la....2 hinggit ja pon lebih charge... (sambil sambung dok makan eskrem Pralines & Cream dan limpahan caramel yang sungguh sedap...)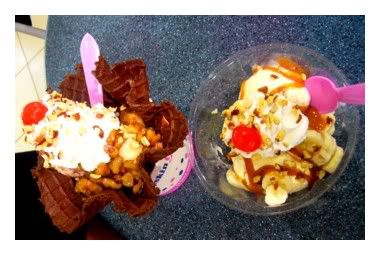 Auditor: Mana bleh, kalau sorang customer 2 hinggit, bayangkan bila ada 1000 customer cam Shila? (dan muke sangat lah tak puas hati....)

Si Auditor tadik pon pegik kat kaunter dan mule la menyoal siasat cashier tu. (Saje jer nak buat chaos kat situ, kuikuikui...) Si bofren tu plak dah malu giler agaknya pasai Si Auditor kecoh pasai 2 hinggit jer...Pastu tau dia kata apa kat kakak cashier tu? He told the cashier, "Kak, mintak maaf la noooo, gefren saya ni auditor, so kepala dia memang macam ni sikit, sekupang hilang pun dia cari sampai mati...Mesti dia cari beza duit tu pi mana....Maap la nooo, auditor ni paham2 ja la..."

Hoh??? Sungguh tak patut nih! Saye auditor tau! So the INQUISITIVE MIND has always been there since forever! Beza duit 2 hinggit tu lebih dari materiality level saye, mesti ah saye check differences dia apa....Saja nak reconcile balik, kuikuikuikui.... (Kown kata, pada lelaki2 di luar sana, jangan cari gefren auditor kalau takmo saket kepala dengan numbers!)