Short notes to Enchek Kown:

Shopping on "Bajet-Bulan-Ini-Yang-Dibekukan"

I have put all my efforts, by heart and by strengths not to step into any shops in The Curve and not even went to One Utama & Midvalley & KLCC last week. And I keep telling myself not to go for even a short visit to say Hi on the New Arrivals. Eheheheh. But I'm not sure of what that has smacked me right in the middle of head that caused me to bought this (of all the things yang ada dalam dunia untuk hari itu lah) :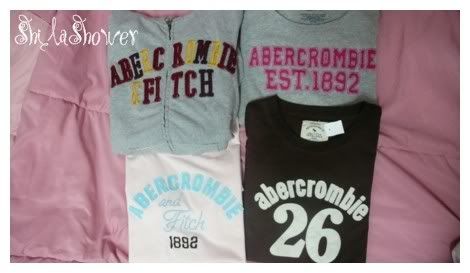 And you want to know why? Because it's RM10 each (Eheheh, but it became RM60 after taking 4 pieces of it). Takper kan? Kanda tak marah kan? Hihihihihi...Okeyh, I do appreaciate your intention to control me from my super madness addiction on shopping (which you said should only be done on a week basis) and to prevent me from holding on my "Hari-Hari-Stress-Hari-Hari-Kena-Shopping" ideology. Hihihihi...

Anddd I bought this as well (you said book is fine kan?). Ah, for this one, I can give all the receipts to your secretary so that you can use it for the income tax purposes. I have spent a lot on books, so no worries, we can share it together. Hehehehe =D