Okeh, just a little quickie on the happenings last week:

Friday Night : Bagan Lalang clan get together again. Ehehe, tho not everyone but half of us were there. OldTown White Coffee Cyberjaya. Owwhh dear, how I miss the Cyber days and well, it was definitely hundreds times better than E.Y? Kan?? (To exclude Dillot, coz she seems to love EY very much). Hihihihi

Saturday Night: Dinner @ Secret Receipe, Sunway Pyramid continued with melepak session @ TGI Friday, The Curve and continued lagik dengan Transformers @ 2am, Cineleisure. (Dan terjumpe Along! With "Abang Kawan" die...hehehe. Abang Ayep ek?) Then at 5am was another teh tarik session @ Pelita. Dan hanya pulang ke pangkal jalan pada pukul 8 pagi Ahad. Gilek sunggoh.

I was happy that day because the gays were meeting each other again! Okeh, tho I'm not in the Gays but I am one of the Gays fiance. Hehehehe. Me happy jugak sebab mesti akan have fun like gile, like zaman2 Kuktem. I love when Kown-Miju-Nal being together, because they are a total whole of fun. (Despite that I noticed something between them, macam the fun is no longer a 100% fun. Macam ada kurang, but don't know where...) Huhuhuhuh. (Why do people have to change so drastically when they're with some one else? Why is it so difficult to retain some sense of individuality?) But for now, things are gone. And nothing's the same anymore. Everything different. The gays pon tawu touching2 nih. Huuuu~~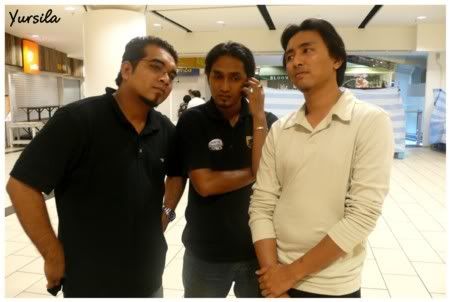 : : The Gays : :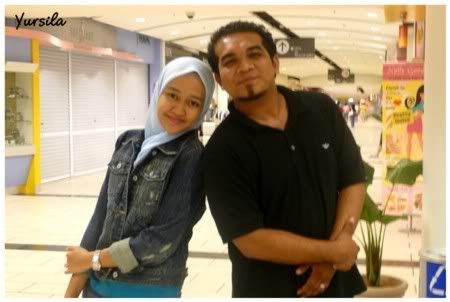 : : TGI No.1 : :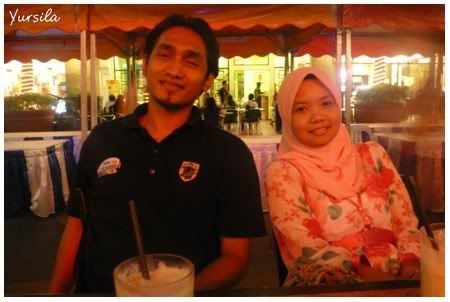 : : TGI No.2 (Scandal Miju No.25) Ehehehe : :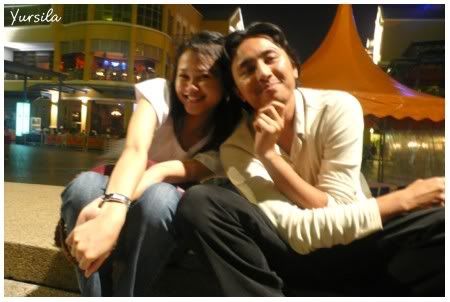 : : TGI No.3 : :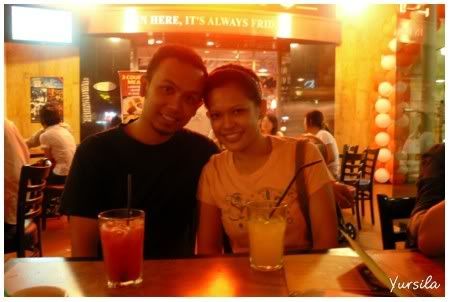 : : TGI No.4 : :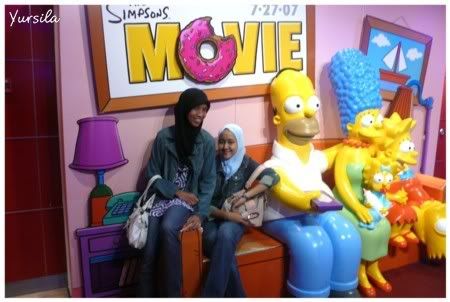 : : Along & Shila (Ehe, macam Kuktems get together pulok) =D : :
Ahad: Bangun pun dah lambat tahap gaban, tapi petang pegi makan mihun soto kat Kampung Baru. Memang gerai yang tersorok gile dalam kawasan setinggan tu, hahahaha but kedai tu dah lama since my parents punya zaman deting. So, now ShilaShower nak sambung deting. And Kown was like, "Sejak bile pulak tawu kedai cerok macam nih? Sejak bile pulak reti makan tempat tak 'fine dining' nih?" Ehehehehe....

Monday: Kown's Shopping Spree! Die pegik shopping okeh. Dan saye hanya melihat. Eyh tak, tumpang satu baju dekat Canterburry. He was long for Canter's Sale, so it is now the time. Dan dia membeli Levi's juge. Sighhh~~ (Mahu juge....) But know what? Levi's The Curve ada Sale okeh? And tak la burok sangat design dia, price dah macam 140-160. Gilek.

Malam pegi makan dengan Miju and Zana @ Bora Ombak. Sambil berlakulah sesi luahan hati yang dah touching2 tu....apetah lah je derang nih, muke ganas macam bapak orang, tapi hati sensetip. Hehehe

Tuesday: Saye mahu shopping! Sambung lagi later....