Did you noticed that today's preschoolers are listening more of pop songs than those nursery rhymes? And it makes me wonder will the Pop-Goes-the-Weesel days soon vanish from this new era? And they owned that iPod Nano/Shuffle too.

For example, the kids are able to remember every single line of Buronan Cinta perfectly but they hardly know the Supercalifragilistic rhymes. or My Bonnie. or Polly Put the Kettle On. To me, pop song is just not suitable for them as it does not contained any good message for the kids themselves

(what info? cinta2? tangkap lentok?).

And it's not soothing either.
Infos taken from net:
Nursery rhymes an important historical part of our culture, but by singing them to young children can help speed up the development of their communication, memory, language and reading skills.
For hundreds of years, mothers have crooned their babies to sleep with lullabies, fathers have sung nursery rhymes to their toddlers, and families have made folk music a part of everyday life. Why? Because music is calming, music facilitates language development, and most of all, music is enjoyable for both parents and children.

Studies have shown that even within the womb, a baby responds to music and melody. Hearing is fully developed by the third trimester, and when a fetus hears a tune over and over again, she will recognize ¾ and feel comforted by ¾ that tune after her birth.

If classical music is played for premature babies, their heart rates slow down and their breathing steadies, showing that the music helps to relieve stress. For your upset baby, music can serve the very practical purpose of calming her down. Your baby doesn't care whether you are completely tone deaf or an opera star, as long as he/she hears the comforting sound of your voice.
And of course I would very much prefer the nursery rhymes or the selection of folk songs
*tho much of it doesn't make sense at all,
hihi but at least, that will do much much better than the Aku Memang Pencinta Wanitaaa or Makhluk Tuhan Paling Seksiiii or Lelaki Buaya Darat or anything that goes the same.
*and don't blame the genes if the kid turn out to be kasanova ternama someday.
Hihihihi~~
Owh, that reminds me of something that I promised to you readers months ago, especially to mommies & mommies-to-be out there. The link of where I downloaded my 100 songs for kids. :)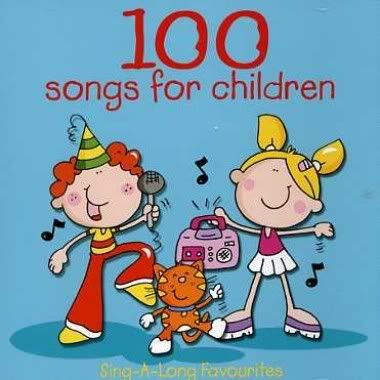 DISK 01 :

01. Old MaDISKonald Had A Farm (02:09)
02. This Old Man (Knick-Knack Paddy-Whack) (01:46)
03. The Grand Olde Duke Of York (01:36)
04. Oh Dear What Can The Matter Be? (01:30)
05. Yankee Doodle (01:09)
06. How Much Is That Doggy In The Window? (01:16)
07. Michael Finigan (01:02)
08. The Farmer In The Dell (01:29)
09. Polly Put The Kettle On (01:13)
10. I Had A Little Nut Tree (01:13)
11. Skip To My Lou (01:41)
12. Frère Jaques (01:1
13. Bingo (01:36)0
14. Peas Pudding (00:54)
15. Here We Go Round The Mulberry Bush (01:19)
16. Ring-A-Ring-A-Roses (00:3
17. I Saw Three Ships (01:16)
18. Oranges And Lemons 01:36
19. Goosey- Goosey Gander (01:14)
20. The Big Ship Sails On The Ali-Ali-O (01:34)
21. Simple Simon (01:09)
22. Pat-A-Cake, Pat-A-Cake (01:29)
23. Tom Tom The Piper's Son (01:12)
24. Happy Birthday (00:41)
25. For He's A Jolly-Good Fellow (00:5

DISK 02 :

01. Polly Wally Doodle (02:0
02. Aunt Rhodie (01:31)
03. Cockles And Mussels (Molly Marlone) (02:10)
04. Little Brown Jug (01:45)
05. The Old Grey Mare (01:42)
06. Aiken Drum (01:40)
07. Winkum-Winkum (01:41)
08. Little Boy Blue (01:20)
09. Rock-A-Bye Baby (01:30)
10. There's A Hole In My Bucket (02:07)
11. Waltzing Matilda (02:22)
12. Incy-Wincy Spider (01:25)
13. Take Me Out To The Ball Game (02:07)
14. Daddy Wouldn't Buy Me A Bow-Wow (01:17)
15. Three Little Pigs (01:34)
16. Sky Boat Song (02:22)
17. Daisy, Daisy (02:0
18. I'm H-A-P-P-Y (01:19)
19. You Are My Sunshine (01:51)
20. God Bless The Moon (01:17)
21. Humpty Dumpty (01:02)
22. Rub-A-Dub Dub Three Men In A Tub (01:00)
23. This Little Pig (01:16)
24. Happy Wanderer (01:55)
25. Lullaby And Goodnight (01:33)

DISK 03 :

01. Lavender's Blue (01:54)
02. My Bonny Lies Over The Ocean (01:43)
03. London's Burning (01:01)
04. Five Green Bottles (01:2
05. On Top Of Old Smokey (01:45)
06. Mary Had A Little Lamb (01:2
07. Ride A Clock-Horse To Banbury Cross (01:09)
08. To Market To Market (01:01)
09. There Was A Crooked Man (01:13)
10. I've Been Working On The Railroad (01:50)
11. 'Twas On A Monday Morning (01:29)
12. One Man Went To Mow (01:11)
13. The Grandfather Clock (01:11)
14. The North Wind Doth Blow (01:29)
15. Bobby Shafto (01:14)
16. Here We Go Luby-Loo (01:37)
17. She'll Be Coming Round The Mountain (01:23)
18. Clementine (02:10)
19. Bluetail Fly (Jimmy Crack Corn) (01:36)
20. Row, Row, Row Your Boat (01:02)
21. Billy Boy (02:05)
22. Home on The Range (01:54)
23. The Yellow Rose Of Texas (01:51)
24. Pop! Goes the Weasel (01:30)
25. Do Your Ears Hang Low? (00:52)

DISK 04 :

01. Twinkle, Twinkle Little Star (01:19)
02. The Muffin Man (01:23)
03. Three Blind Mice (01:05)
04. Hickory Dickory Dock (00:49)
05. I'm A Little Teapot (01:01)
06. Hush Little Baby (01:39)
07. Baa-Baa Black Sheep (01:21)
08. Boys and Girls Come Out To Play (00:57)
09. This Is The Way The Ladies Ride (01:03)
10. Six In A Bed (01:00)
11. Bye Baby Bunting (01:07)
12. Hot Cross Buns (00:5
13. Jack And Jill (01:00)
14. London Bridge Is Falling Down (01:2
15. Little Jack Horner (01:14)
16. Little Miss Muffet (01:10)
17. Lucy Locket (01:0
18. Three Little Kittens (02:22)
19. Little Bo-Peep (01:33)
20. Oh Where, Oh Where Has My Little Dog Gone (01:17)
21. See-Saw Margery Daw (01:09)
22. How Many Miles To Babylon? (01:26)
23. Sing A Song Of Sixpence (01:26)
24. John Brown's Baby (01:00)
25. Do You Ken John Peel? (01:19)

http://filemonster.net/file/1567/100-Songs-for-Kids-part1-rar.html
http://filemonster.net/file/1574/100-Songs-for-Kids-part2-rar.html

Mirror:
http://rapidshare.com/files/11482636/100_Songs_for_Kids.part1.rar
http://rapidshare.com/files/11492623/100_Songs_for_Kids.part2.rar

Happy downloading mommies~!

P/S: Well, this is just an option to you may want to have, besides recitation surah2 Al-Quran, selawat, nasyid and the folk songs. :) So don't get me wrong saying that I'm putting more priorities to nursery rhymes compared to Surah2 Al-Quran itself.

Hush, little baby, don't say a word. Mama's gonna buy you a mockingbird
And if that mockingbird won't sing, Mama's gonna buy you a diamond ring
And if that diamond ring turns brass, Mama's gonna buy you a looking glass
And if that looking glass gets broke, Mama's gonna buy you a billy goat
And if that billy goat won't pull, Mama's gonna buy you a cart and bull...

Owh, I can't stop singing this now~!