First-time parents enjoy their first pre-baby get-away in Cherating last weekend. Well, I was hoping that it will be a 3 days 2 nights trip, but sadly say, 84% of my annual leaves have been utilised mainly for wedding and honeymoon. So, leaving me with another 4 days of AL to survive until end of the year. *Tak best tak besttt

From Wikipedia:
A babymoon is a vacation taken by a couple that is expecting a baby in order to allow the couple to enjoy a final trip together before the many sleepless nights that usually accompany a newborn baby. Babymoons are usually take place at a resort that offers appropriate services like prenatal massage The term babymoon comes from the more traditional term honeymoon, which is a vacation taken by a newlywed couple after their wedding ceremony.

Except that in our case, this is not a final trip for us as I'm planning for another 2 babymoon trips somewhere in Dec this year and perhaps March next year. Hihihhihi....

Well, there was a wedding invitation that lead us to Cherating last weekend. Between, I needed a break and wedding was on Sunday, so a quick babymooning trip was surely a great thing to me. and baby. and daddy too. :)

I browsed through the internet, clicking to various webpages until I found SwissGarden.Com. They are having few super deal packages in celebrating their 10th anniversary and to me, it was such a great offering. And we saved more too by making reservation online. :)

It costs us RM310.50 for a Sparadise Get-A-Way which offers us these:
* 2 Days / 1 Night Stay in a Deluxe Garden View Suite for 2 persons
* Buffet Breakfast for 2 persons
* Complimentary 45-minutes Body Massage for 1 person in Samsara Spa
* Complimentary 'Rejuvenating Welcome Drink' upon check-in at Swiss Care Centre
* Complimentary Mineral water (2 bottles) daily
* Complimentary extra bed subject to availability
* 20% discount off the total bill for Garden Terrace except Alcohol, Tobacco and Promotional Items
* Complimentary upgrade subject to availability
* Privileged check-in at Swiss Care centre

It was refreshing to be greeted with a smile and superfast check-in at Swiss Care Centre. Friendly and professional hotel staffs, room was comfortable and clean, resort was overall quite good, thus we were very happy to have selected this resort. The lobby ambience is great especially at night and the white sandy beach is long and beautfiful. And I believe Kown enjoyed every minute of his spa relaxation.

Our only disappointment here was that there was no mini-bar

(only an empty fridge)

but we didn't let it get us down as we probably would not have used the mini-bar that much anyway.

As for breakfast, choice for local style was limited and majority dishes served are spicy but that was not a problem to me as this mak bonda is definitely not into it. The muffins, bread, croisants and danish are too hard to bite, salads and dressings are limited but drinks, cornflakes and fruits are generous.

To us personally, it worth every RM we paid and we found it not to be as bad as people have written in their posts and hotel is far nicer than it appears on its website.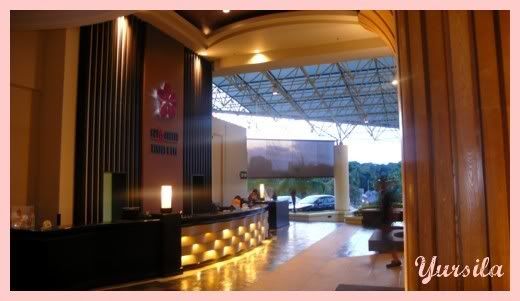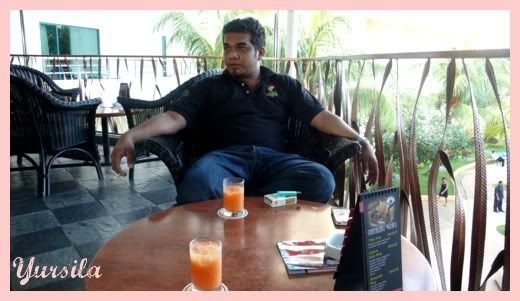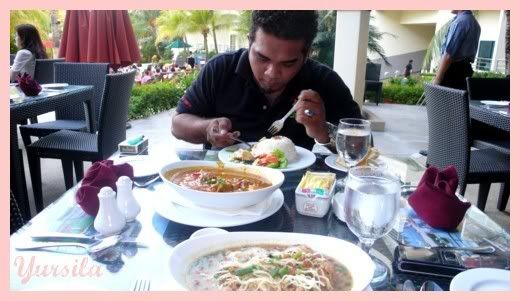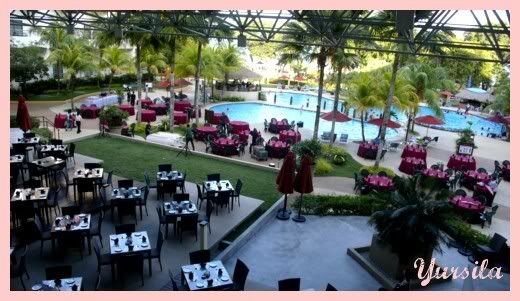 On top of above, I still have a few off-scene pictures.
Advert: Jejaka berbaju merah, berumur 25 tahun, besday 2 May 1983, warganegeri Kelantan, kerjaya sebagai engineer, tinggi, dia kata dia hensem kacak macho tampan bergaya, sedang giat mencari girlfren a.k.a calon bini. Tapi that calon will have to wait for another 2 years, sebab dia kata umoq 27 baru nak kawen.
Kriteria calon yang berminat: chubby, putih, gebu, ada dimples di pipi.
P/S: I wonder why he's actively seeking for a girlfriend. Because I am pretty sure that he has more than 30 candidates in list, but maybe none of them is having above mentioned criteria kot?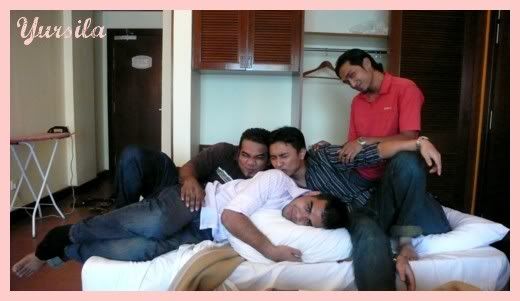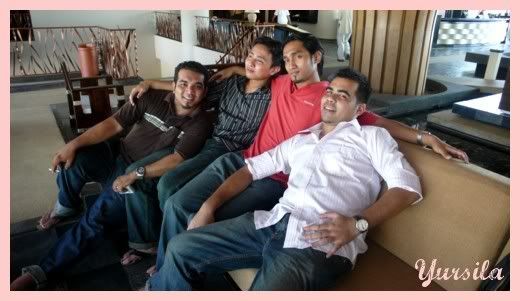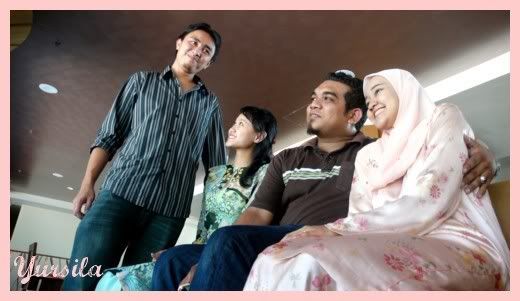 Swiss Garden Resort & Spa located in Beserah, Kuantan. Tapi sebab dia nearby Cherating, I anggap dia cam Cherating je lah. Hihihihi. +P