To those who's been craving for my cupcakes but never got the chance to order (perasan, hihihi), so here I am, with my first cuppies promotion~!


Cupcakes details:
16pcs chocolatey cupcakes
(souffle cup, 3.5oz)
Pack in transparent plastic box with ribbon
Vanilla buttercream topping
(4 pastel colors: yellow, pink, purple and blue)


Flower power sugarpaste deco
All above for RM40 only~!

Pick up date, time & place:
Sunday. 16th November 2008
1.00pm [

please be punctual ya :)

]
Petronas Mutiara Damansara

(the one in front of Tesco, nearby Ikea & The Curve)
Payment:
Cash on delivery. (I will re-confirm your order on Saturday evening)

Other:
One box per person only. Sorry guys, orders are limited, hence I have to limit the order per person ya. :)

Remember everything last for one day only~! Sunday 16th November 2008.

Happy viewing. Happy ordering. And thank you so much for your endless support to my baby business and may one day I can expand it larger, a cafe maybe? or at least organize a cupcakes baking class. Hihihihi. ;)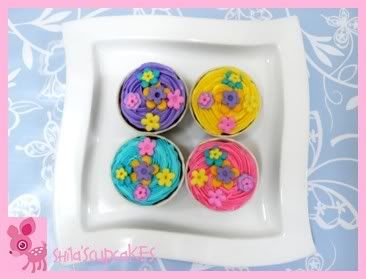 : : Sample Cupcakes : :
As usual, my last week baking project. :) The last box was inspired by Sugarbuds, as design requested by my customer. No worries, no design plagiarism happened here as permission granted by Sugarbuds itself. :) Thanks Wan~!