Just like what you read, baby is 25 weeks now and he's doing fine inside mummy's womb. So am I. Alhamdulillah :)

So as you know, I'm doing my monthly pregnancy check-up at two places: Pantai Medical Center and Klinik Kesihatan Taman Ehsan.

Reasons being?

I just want to be on the safe side of having that Kad Merah and it's no harm anyway for me to have both. Plus, I travelled quite frequently and by having this card will help and safe me during emergency case, if any, but hopefully my pregnancy will go as smooth as it can be. It just that I need to show my Kad Merah to my gynea in Pantai and update her should she wants to take note on anything. And let the Dr do the reading on that card because I can't read anything, not even a word on the doctor's hand writing.

*Why does Dr. has to write in such a way?

=P

And many been asking me, what's the different of having these two checkups? Well, to my experience, Pantai provides much details on the baby growth whilst Gomen gives more attention to me myself as a pregnant lady. So great as I can get the most infos from both sides, private and government for which goverment clinic is so much more strict in monitoring the whole pregnancy progress.

Just to let you know, if you miss one of the monthly check-up, they will give a call to your husband and if you still didn't turn up on the rescheduled date given, they will actually go to your house to check on you and issue a slip for the next appointment for which a must. Depa cari sampai rumah tau dakkk...

While few others been asking why do I need that Pantai when you can get everything all free from government? My reason will be as simple as this: I don't mind spending that amount just to get that piece of report and black and white ultrasound pictures, because knowing that the baby is growing according to the chart

(tho he's slightly above the average, blame the genes then),

and baby is doing fine inside my womb, is priceless. At least I don't have to do that wonder what? wonder how? whether the baby is owh-keh or otherwise.
Check-up: Klinik Kesihatan as of last Wednesday
Sugar level is fine, blood pressure is normal but the only thing that worrying me now is my whopping extra kilos. I think I will have a hard time later to shed that unwanted kgs.

*Abes lahhh gweee~~

I was on 56 to 58 kilos at most before getting pregnant and just in 6 months time, I am now weight at 75kgs. Yes, you read it right. I am fat. But nevermind, I'll the worry later. Alhamdulillah as my placenta has moved further up in my uterus. *Clap clap clap.

What I should be worried now is my haemoglobin level~! It is under average, not even to the minimum requirement but acceptable. But a low haemoglobin level could cause less intake of oxygen in blood, and worst case it could lead to anemia which definitely bad for me and the baby. I'm in the mode to increase my protein and iron intake; red meat, green leafy, beans, spinach, cabbage and supplements. I hope with all the nutrients and the double doze of my iron supplement will improve my Hb level soon.

And I got my first dose of antitetanus last Friday as well as my first scan in government clinic.

Guess what the doctor warned me?

"Your baby is potentially BIG".

I did asked her whether it's due to my raksaksa-gorgon-big-appetite and the difficulties for me to satisfy my hunger, but the doctor said no. Even if I put myself on diet and restrain myself from eating, baby will still grow big. I don't know how she made the assumption anyway because I didn't ask. And chances are higher as both mommy and daddy is tall and hubby is on big frame type. Taff gile anak hakuu nanti. But what scared me that day was, "Kalau lebih 4kilos tak boleh normal yer? Kena CSect."

And I was like?? Will my baby reach 4 kilos??!! Seems like the doctor is giving me a slight hint and she wrote on my Kad Merah: to monitor baby growth and apetah, I couldn't read the hand writing. Huuuuuuu~~

Despite the above, I'm enjoying every moment of baby's kicking, punching, shoving, tickling and all those that baby been doing inside me. And alhamdulillah I don't have any problem to sleep at night due to our baby active movements

(but not sure in later future).

And it's fun to see my tummy with this moving action, left and right, sometimes with this waving thing inside it. Or sometimes I can see this popping on my skin, I'm not sure whether that was the legs or hands. =P

I'm looking forward to have this detail and 3D scan when I reach my 28 or 29 weeks. We haven't decide whether to do it in Pantai Medical or to have it at Vision College Kelana Jaya. They have all the facilities for detail and 3D scanning and the best thing it is way cheaper than Pantai. Detail scan is RM150 and 3D scan is RM60~! I think it's cheap lah. And you get the whole report and CD as well.

On a lighter note, I keep getting this questions: "How's the baby shopping?" and "Baby nama apa nanti?"

I'll write more about baby shopping a little bit laterrrr but I promise will do a post about it. On the baby's name, we haven't decide as yet. Well you know, you need to come out with a few names, let the parents

(as in baby's grandpas and grandmas)

have a look on it, get some mutual agreement and show it to ustaz and alim ulama whether the name is ok or nope. Yerp I know, that suppose to be the right of us as the parents to name the baby in any ways we like, but taking into the consideration of the parents, we make way for that. After all, dapatkan pendapat semua orang tak salahkan?

I always want a short name ever on earth for my baby, something like ARIF. ARIF only or maybe ADAM. But then hubby wants to add another name behind, like Arif Haziq. Then the grandparents insist to put the Muhammad at front, and now it's already become Muhammad Arif Haziq

(ini hanya lah contoh, bukan nama sebenar. hihihi)

Aiyayayyaya~~ Fine lah, as long as it's not Muhammad Kown ke, or Mat Kown, I am fine. =P Hihihihi~~

Update from check-up yesterday (PMC):

Mommy gained another 1kg within a week~! Okels, I just don't wanna talk about this owh-gile-berat-nak-mampuih-aku~! Doctor has stopped from prescribing me with Pramilet and will just continue with Neurogain until later date. But Dr. said it's fine for not to consume the Pramilet as long as I'm on my healthy meal plan. Healthy like what? My daily intake of chocolates? and ice cream? Abes lah, now I have to monitor every single thing that goes into my mouth.

Baby?
Agaggagagaga. He's gaining more weight as well, from 742g last week to 945g as of yesterday~! That's near to a kilo. And I'm only in my 25 going to 26 weeks gestational period. Speaking of which, baby is growing fast and he is really really potentially gonna be big. (whose to blame then? the makan-ster mommy or the daddy's genes?)

And I did the 4D scan yesterday with no extra charge. Good eyh to have both 2D and 3D/4D scan altogether at the same price? Sadly, baby is not in a good position as he was actively moving around during the scan. He's doing all the kicking, poking, curling movements thus making thing hard for the doctor to focus on him. Especially the face.

: : Iron, Neurogain & Pramilet : :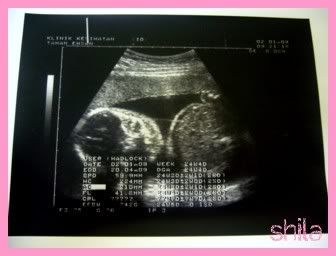 : : 25 weeks. Badan nampak macam gagah perkasa. kuikuikuikui. Boolat-boolat camtu : :
: : I love this tho it's only a leg. Kaki yang selalu buat tendangan waktu pukol 12. 12pm and 12am. Sharp tau timing dia : :