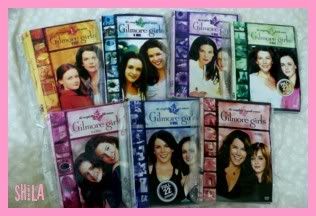 I couldn't ask for more than this~!

Gilmore Girls Season 1 to 7.
C.O.M.P.L.E.T.E

*Copy2 CD GG yang burn masa MMU dah hilang masa kenduri. Hurmm, or maybe I misplaced it somewhere and all gone undetected.

But now, I have the replacement for the lost ones and all complete.
Thank you Suami.

Fluffy pillow. Comfy duvet. Aircond. Donuts. Iced Chocolate. Laptop. CDs. My perfect combo for tonight~!