When it comes to preparing baby's stuff, I get so excited and overwhelmed by the cute tiny little things. And sometimes I get amused by everything that market has to offer for the baby needs and essentials.
So as to get the parents pockets torn so badly.

Definitely the price varies on quality and brand, from the 70% off item up to no-sale-ever-happened-high-end-item. Well, at times, when your lucky star is just there, you can even get a free quality stuff for your little munchkin too.
But such thing rarely happens lah kan?

I believed most mommy-daddy-to-be wish to get everything stated in the checklist done and prepared. But, not everything will get tick and some may need to be striked off from the list. Again, it depends on the budget and how important that you think that your baby may need those stuff.

*Critical thinking.

Hihihihihi...

As for both of us, we have discussed and prepared our own baby checklist which a combination of lists taken from the books and internet. And yeah, tho I ruled out most on list; what we need to buy or to get for the baby, at the end of the day it's the daddy who has sole discretion in getting the budget approved. Huhuhuhuhu. Dictatorism? Fine lah, because he's the one who will get to suffer all the damages. All I need to do is to spend the money given by him wisely just as what we agreed during the baby-checklist-session. *I'm glad there was no aksi-tikam-tikam-kill-kill-die-die during that budget challenge session. Hihihihihi.

Having to stick to the list is a bit of restraint to me, especially when I'm dying to get those cute outfits for our little one. So I took the short cut: just buy one at time, sorok in my handbag and definitely I have to use my own money lah. So, this buy-and-sorok thing has been happening for quite some time already and yesterday, I decided to unpack everything just to see what I have bought so far.

*Of course husband wasn't around.

=P

Gosh~!

*Gasp*

*Breathless* Oxygen please~!! Oxygen!!

Mounting of baju-bajan right there on our bed. Seriously, I was just thinking to gear up my baby-shopping-speed because I'm in my 29 weeks now but I guess I have to call off the whole plan now. Owh baby, I think you have more than enough clothings till end of this year. At least until you hit 9 months.

No~! Don't blame me. Blame the year end sale. Or blame the cash vouchers. Or blame the discount on top of discount thing.

Sedapkan hati: Most of the outfits are in 3-6, 6-9 and 6-12 months size, so boleh pakai lama sikit. Huhuhuhuhu.....

Ya udah, let me get back to above discussion on preparing for baby.

Along the way, we managed to cross out few items from the list, not by buying but by getting those used items from families. Especially from cousins. Hihihihihi....We are more than happy to have those stuff given by them because that leaves us with an extra amount of RM to spend for later.

*Clap clap clap*.

One of the biggest saving that we have made recently; my cousin gave me her daughter's baby cot and one brownie point to this; the cot is just very very much to my liking. Wooden white cot, with drawers underneath.

Saving made: RM800.

That is banyak okeyh. And she gave me few other stuff like clothes, blankets, baby carriers, stroller and adding more yeayyy to that is my SIL going to give us her daughter's playpen too.

Definitely there are things that I preferred to have it brand new, i.e: breastpump and steriliser because I see it as my long term investment. =P

All in all, our baby stuff is a mixture of free, sale, brandnew and used items. Now I need another long weekend to sort, to wash, to clean and to arrange our huneybun sugarpie's things. Hurmmm, do I really need to use baby's detergent

(macam Napikleen)

for this cleaning and washing matter?

P/S: Due to this consumerism, choices and purchasing power, we are getting more detail in preparing for our baby and yes, it could lead to heavy damages if it does not manage properly. Ever wonder how our parents back then able to raise us just like what we are today, without having to spend much on baby carrier? baby car seat? stroller? baby monitor?

I wish I could just stick to basic like them, but I can't, just because I don't have enough will to do that.

Hihihihihihi....


: : Kazen saya bagi..hihihi : :
: : Kown beli. Sebab dia tulis macam tu. *Perasan la tuuu : :
: : T-shirt sale. Most of it RM15. Hihihi : :
: : Baru unpack Luvable Friends baju-bajan that I bought online : :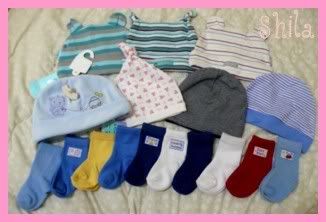 : : Hat free & salee. Pumpkin RM7 baby hats. Hihihihi. Socks pun sale. One box of 10 pairs, $4.99 kot? : :
: : Same goes here, akibat beli and sorok and I dah lost count brapa yang dah beli. Ended up to be this much. Huhuhuhu. Tapi takpe saleee, paling mahai siriesly hanya RM5. =P : :