Saturday was a very down day for. For God knows what, I had these mixed feelings from being sad to angry for no reason. I was extremely sensetive and easily touched just by seeing couples together. Deep inside, my heart was screaming badly

"Nak jugakkkkk nak jugakkkk",

not that my husband didn't care about me but it's the works that he has to put at first. I'm hoping that his busy-bee thing will not going to last for long....Huhuhuhuhu....Or maybe it is just normal for a pregnant lady to feel this way....

I was already stressed out since the early morning especially to see couples together during the pregnancy check-up and I was there alone unaccompanied. Again. I forced myself to face the reality that husband is really busy at this point of time

(which of course for our own good kan?)

despite how hard it is. I was seriously OK with being alone all this while and in fact I feel proud that I am so independent to be able to do things on my own, but sighhh that wasn't for long. Moving towards to 3rd trimester, I am getting more sensetive and fragile than ever.

Back to the check-up, luckily I didn't have to wait that long before my turn. Because I bet if I were to wait for another extra second, I would have burst into tears. Now I wonder, how single mothers out there able to go through their days without having human called husband beside them. And to me, how one tough cookie we are ladies, at times, we still need a man called husband with us. Not just a man but husband.

Just to sooth my emotion from feeling even more down, I started to look and compare people's tummy to mine. Hahahahaha. I know, gilok. I think everyone there has bulging belly whilst mine is just like 6 months pregnant. Again, I wonder how my little man positioned himself in there because he's not giving that bulging but expanding (sideways) looks to my belly.

Lebar dan terus melebar like nobody business.

Huhuhuhuhu....Nvm, so long people know "owh she's pregnant", then I am fine rather than to think that I am one fat elephant that in no ways can get slim and tone down. =P

Anyway, despite all above, I'm glad that I still I have something to smile on. Definitely none other than looking to my dearie baby scan pictures. At least I managed to wipe away the sedih-sedih-tacing-tacing feelings the moment I saw my baby wriggling inside my womb. And I told myself,

"Don't be sad. Eventho Kown is not around, you know that you always have this little man with you kan?..."

I just don't want to talk about my weight anymore because it is SKYROCKETING to this unbelievable figure which I hate to see...Our little sweetheart is growing healthily and putting up more weight than before. He's now at 1.5kg. 29weeks. Sihat lagi mantap dan gagah perkasa anak I neh.

And looking at my baby's weight, people will definitely be asking about my birth plan. As for now, my answer is I DON'T KNOW. I didn't plan for any and I will just wait for the baby to choose his own way to say hye to the world. :)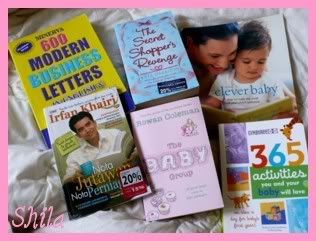 : : Beli-beli buku @Popular. All at discounted price. :) : :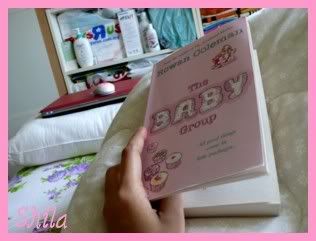 : : Percubaan bersenang-lenang selepas begitu emosi : :


Notes:
[1] Buku "Your Clever Baby" and "365 Activities You & Your Baby Will Love" is worth reading. It gives you educational play ideas on engaging with your baby everyday. And it's not that expensive anyway, less than RM23 for each. To me, it's good in a sense that those activities covered from the very first day your baby is born until one year old. Nama pun 365 days :)
[2] And I'm reading this book titled "The Baby Group". A story on six very different parents running a total different lives. And along the way, the met each other and formed this unofficial baby group. Currently reading up to chapter four and I can't wait to finish the whole book and for mommy-to-be, I think this one of light reading material that you can have just in case if you are looking for one.