Off topic dulu. The sale is here again~! (biasalah, ini kan Malaysia Darul Sale). All you need to do is waiting before you can start shopping all over again. Anyway, you don't have to wait that long for the new Sale Cycle to come in kan? Having the GP Sale on right now, I took it as my one last chance to do my ultimate soul searching activity before getting grounded in April for 2 months~! (I can't imagine myself not being able to go out for weeks. Wayar short kejap kepala ni karang). Nevertheless, I already have a plan to shop like mad for new office clothings in June just before I start working again (another shopping spree will be coming in rite?). Because I need the fresh vibe before entering the office again. Hihihihi...

Anyway, what I wanted to blog today is about facial care because I think it's about time for me to do some switching and trying on other facial range in order to suit my current skin type.

I've been using Clinique products for quite sometime already and it work wonders on my face for years. So, for me to actually switch to some other brands is one tough thing and being me, I am not the type who likes to try from one product to another and at the end of the day, still not sure on which product do the best. But definitely after few trials, you surely know which one that do sucks on your face.

I started with Clinique blemish range and over the years, it goes well on my face as it managed to clear off the zits very much to my satisfaction. Of course pimples do come occasionally especially when the red flag season is about to up. But yeay, I didn't experience any after special baking of ovum & spermtozoid since the last 8 months. =P For once, thank you hormones. :)

And I just noticed that much of the stuff on my dressing table is about to finish and need to be replenished very soon, otherwise I won't have any new bottles and tubes to use during my confinement days. Pantang2 lah, muka kena jaga. Kuikuikuikui.

My only concern now is my uneven skin tone. So, I'm planning to switch from my normal facial care to something that can make my face more radiant and fresh. Do you think whitening range can do that for me? Or anyone here been using Clinique Derma White products?

Note: I have few makeup samples to give away and stay tune for that.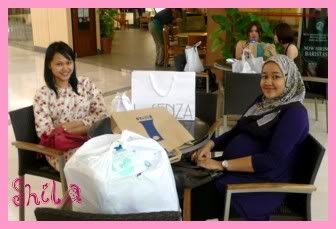 : : Bridesmaid saya yang nak kawen weekend ini. Kawen dengan Kown's bestman. Schweetttt : :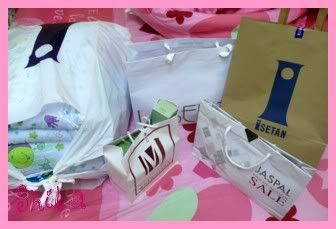 : : First Round : :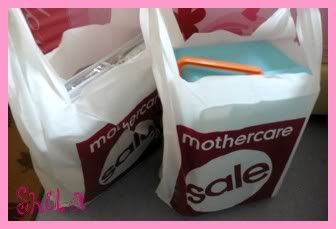 : : Second Round : :
: : Nak pakai masa confinement. Kown kata mengada je. Hihihi : :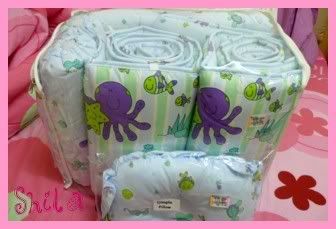 : : 60% off~! After discount sungguh cheapo : :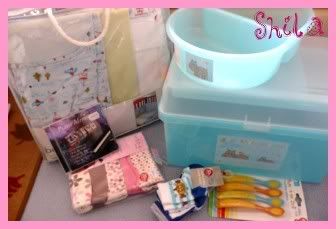 : : Discount plus discount. And that Bed in Bag was on 50% off. Another cheap bedding set for our little hero : :