My baby is full term now. Common sweetheart, come out and say hye to the world~! Well, you don't have to stay in there till EDD you know...And just don't listen to your Daddy for asking you to pop out on the 13th

(so it will be Daddy-Son's Birthday)

as I am all ready to touch, kiss, cuddle and hug you for real. I can't wait to start my 60 days maternity leaves as well.

Any signs of labor? Nadaa. Not yet. Not any till now.

But I'm glad that baby is in the cephalic position right now. And I hope with the limited space available in there, my 3.0kgs baby will figure his way out from my womb, soon...like realll soonnnn....But the way he moves doesn't seem to show that he's having any space shortage. Maybe because I have grown myself more than enough thus giving him that ample room in there, yer sayang?

Sometimes I think of having elective caesarean so that I can have my baby now and NOW. Shila, sile sabar. Sabar itu separuh daripada Iman.

One more, I know this is a bit of gile-kah-kamu-Shila? but seriously, I am looking forward for the signs of labor to hit in. Mr.

Brax ke, hape2 ke.

At least it indicates that labor will kick anytime soon. Or at least it can be my solid reason not to drive to office, because yeahh, at 37 weeks with my roundy bumpy belly I still drive to Menara TM, Bangsar. From Kepong. I hate the bad morning traffic and I can't curse the self centered drivers, because that is totally not good for me, and my baby.

Tapi kadang-kadang Kown hantar la, depends on his schedule...



Baby, boleh tak keluar sekarang? Huhuhuhuu...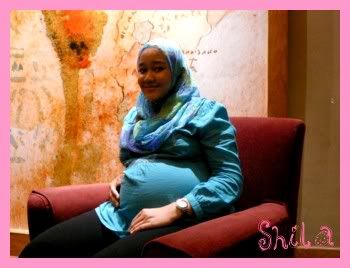 : : Saya yang dah selambak : :