Adam got his second dose of hepatitis B vaccine last Monday and he has been cranky since then. He hasn't get a proper nap during the day as he can be wide awake for 6 hours, which definitely not a normal thing to him. And a slight fever too. But his paed said, those are normal within 2-3 days after having the jab.
Hopefully by tomorrow, things will be back to normal, especially on his sleeping cycle. I'm a solo night performer now because Kown is away until Thursday. But at least he is drinking and pooping as usual, but the demand is slightly higher now, maybe because he hasn't had enough sleep.

(Dah berjaga, nak susu aja lah keroje-nyaaa. Takkan nak mintak Starbaks kan? =P )
He didn't buy on my lullabies now. Owh I need to find ways because the only thing that he likes for now is to sleep on my chest. I guess he likes his mama's smell so much

(or the milky smell on me? whichever it is)

and that makes him high up and doze him off. But do you know how painful is that when the tanks are full? And he will cry in no time if I were to place him to bed/cot.
Soalan: Ada surah apa2 ke elok nak baca kalau baby takmau tidok? =) Many thanks in advance ;)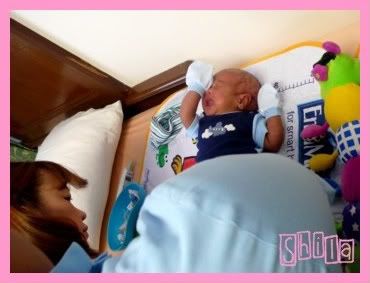 : : Loud speaker on for few seconds. Ok lah, tak teruk sangat. Hihihi : :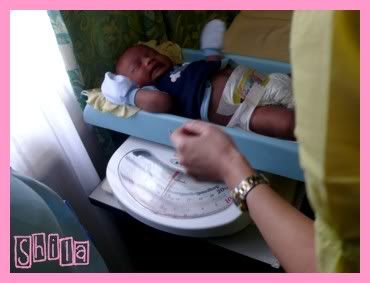 : : 1 month. 4.7kg 57cm : :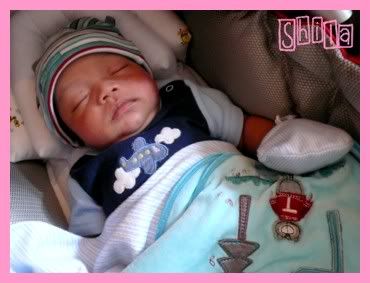 : : And slept rightaway : :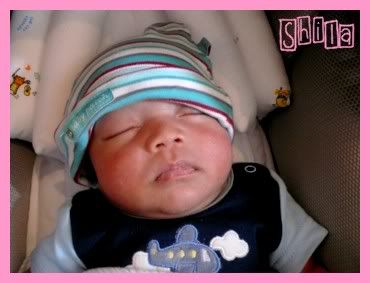 : : Pipi belaan Mama Adam. Agagagagaga... : :