Pagi tadi check blog, tup tup nampak ada entry yang bukan font Verdana. Sah dah! Laki I trespass territory I lah neh (Read: Blog security system adalah rendah. Percubaan berkongsi hak milik berlaku di sini)

Dalam hati,



"Apa pulak la laki mak nak merapu meraban pagi hari ni?"



But after reading the whole long entri-kasih-sayang, I smiled. He melts my heart again.

Semalam, tepat pukul 12am waktu Cinderella, I pun masuk lah bilik nak tidur. While the rest of the family masih ber-gosip Cik Kiah kat bawah. Di kala nak landing kepala bantal sambil nak pusing badan ke kanan, tibe-tibe I nampak sesuatu di belakang curtain...

Jeng jeng jeng!! NO, it was not a handbag. Neither blouse, perfume, jewellery or anything in kind.

Dan bukan hantu jugak!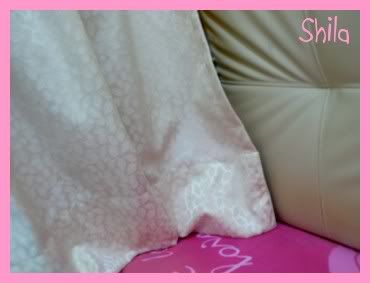 : : Macam tak ada apa : :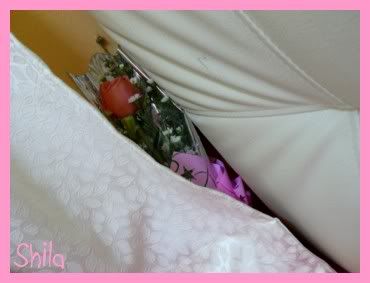 : : Tapi sebenarnya ada ini : :
It was only a stalk of pink rose that was hid behind the curtain. He is such a sweetie, isn't he? Well, tho it was only a pink rose that probably didn't blow his pocket at all, but the little plan and effort that he made for our first anniversary touched my heart to the bottom. (Read again: Sebab dia Mat Kown, tak berapa nak ada dalam kamus hidup dia nak suwit-suwit sangat. Ikut angin monsun luar biasa ja baru boleh dapat.)

Definitely the hidden pink rose brings a smile to me. =) Tapi pikir-pikir, kenapa satu aje? Kenapa tak sejambak penuh? Or kurang-kurang sedozen? Jawabnya, satu jer lah sebab first anniversary baru. And kalau sejambak penuh, nak sorok hapa nya blakang curtain tu kan? Hihihihihihi...

TAPI, walaupun suami I manis semanis ladang tebu gula prai tu, perkongsian hak milik blog tetap takkan berlaku di sini. So takde lah nak jadi header baru, Mrs. Kown tukar jadi Keluarga Mat Kown. Not at any point of time now. >:P

So, untuk I sudah. Untuk laki I pulak?

Virtual world played a vital role here. Online store. Online friend. Online payment. With super kind help from Aida, I managed to get my thing all set right on time. And the greatest part is, I saved a lot on the shipping cost too! Because if I were to convert the shipping cost in UK Pounds to Msia Ringgit, it would probably be close to RM100 (cost from store to UK address to my home address). That's very nice of you Aida, many thanks for everything ya~!

Apa ya untuk si dia?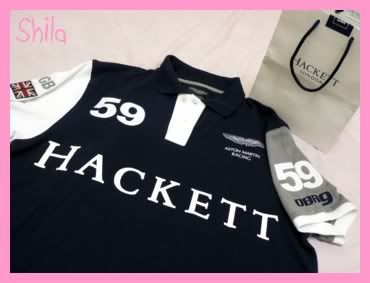 Ini lah nya. Hackett Aston Martin kegilaan suamiku. Dia mintak ni, I kata,

"Hackett takdak. Hekott boleh la, pi beli kat uptown. Agagagagagga...."

Tapi tidak apa lah, sebab isteri dia ni memang baik hati. Baik hati sebab bagi hadiah combo birthday + anniversary + father's day~!

Bini Bachelor of Accounting, haruslah pandai buat kira-kira kan?

=P

Yang pasti isteri ini gembira melihat suaminya eksaited satu macam dapat paperbag Hackett itu. Lompat-lompat I tell you.

Okeh, imagine the chomel-ness of him lompat-lompat. Hihihihi....
Happy 1st Anniversary Abang...nanti dah dapat ilham, I tell you what I want okels?