Saya rindu anak saya. But baru 9am. Aiyoh~! *Jap nak ciom mitten Adam. Bawak woh dalam handbag. Kuikuikuikui*


: : Pagi tadi : :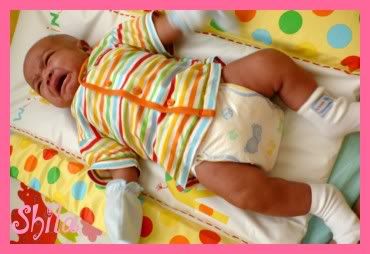 Okeh, sudah.

Back to the topic now. Ramai yang bertanya,

"Adam duduk dengan siapa?"

"Siapa jaga Adam?"

"Adam tinggai mana?"

Saya anggap, itu soalan-soalan biasa yang semua orang akan tanya kan?


(As much as I wanted to take care my own son, I just can't)



Jawapan kacang pis saya:

"Awek cun jaga Adam"

I've told you, he is a chick magnet and it ain't that difficult for him to tackle one.

Anyway, the lucky girl chosen by him is .... *drum roll*

Amirah Suraya Abdul Rahim *standing ovation*

Hahahahhahaha. Tahniah Su, you are the chosen one. =P Habis satu rumah Su dah gila bayang dengan Adam.

When I told my colleagues that my 23 years old cousin is taking care of Adam now, they goes

"Haaa?? Boleh ker?"
Dijamin boleh. Yakin 100%. ;)

1. Mandi baby: she bathed my newborn Adam wayyy before me. No kidding. I have no gut that time to bathe my fragile young man.

2. She knows how to feed and to burp baby very well. Proven: Adam burppp macam orang tua.

3. She knows how to read baby's cues, i.e. nappy full or hungry or need comfort and etc.

4. She don't mind to change my baby diaper since day one. Not many young lady out there yang nak basuh poo-poo baby kan?

5. She's not using any meaning-less words when she talks to Adam. Makan is makan, not mamam. Or susu is susu, not cucu or nenen or whatever. Sleep is sleep, not titon or bom-bom. Which is good because I hate using those mamam, cucu, titon type of language.

6. She is very detail when it comes to baby hygiene. Extra bonus point for this. Kuikuikuikui. She cleaned my baby eyes and ears just like one you had in spa.

7. And her package comes with baby massage and mengaji too~!

Still orang akan tanya, "rumah dia ok ke?" Sumpah! Lebih dari OK tawuu. Kalau rumah macam tu buat nursery, satu KL nak hantar kat sana. Hihihihihi.

Bertuah anak mama nih, dapat nanny graduated from Deakin Uni. lagi...Mama dulu dapat makcik ja, garang pulak tu.
Terima kasih daun keladi Su. Nanti diskas lah, nak buat rombongan Cik Kiah ke mana. I have two places in mind: Cameron or Lumut. Pakej percutian beserta penginapan ditanggung halal oleh Mat Kown. =P