Sticky Wicky Advertorial :)


Hello mommies! I have a little something to share and I hope you will find this information as useful as I have. =)

Actually, I stumbled upon one of Nestle's website while browsing the internet last few days. No, not the
Nestle Malaysia
page but the
Excellence Begins Young (EBY)
; an interactive learning and informative website that worth a visit. If you are looking for a one stop page that has practically everything from a great articles on nutrition and
child development
, expert opinions, products info, healthy delicious recipes for your kid(s) to fun filled activities, then,
Excellence Begins Young
is the place to be.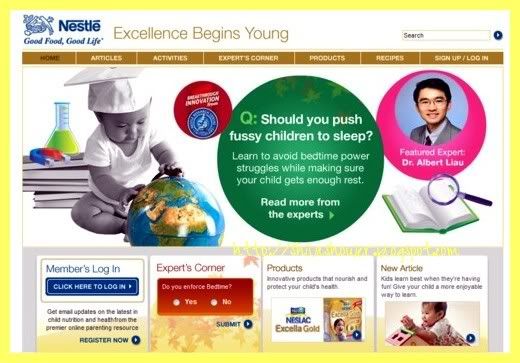 Do you guys remember the entry I blogged about
"Introducing Solid"
and I mentioned that I received free samples from
Nestle
? In specific, a goodies bag full of infant cereal samples, baby bib, feeding spoon, nursery rhymes CD and booklet on baby first feeding. This time, I did another request for Sample B, but not under my name but my sister in law

(the one I got is Sample A).

Because Sample B consist of
Nestle Growing Up Milk
sample (NESLAC® EXCELLA® Gold) which is developed for children ages 1+ and 3+. And owh, it comes with Fisher-Price® Little People Discovering Our Senses VCD too~! Isn't that great?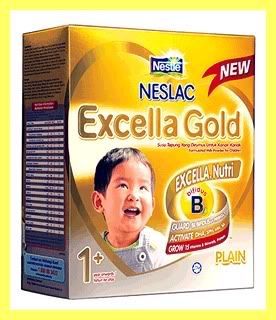 By the way, Neslac Excella Gold is one of the premium formula brand in the market as it provides most of the much needed nutrition for your
child growth
and it gives 3 vital benefits covering aspects of Guard, Activate & Growth.

Nowdays, parents always want the best for the children in every aspect of life and that inclusive of giving them a complete nutrition for all round excellence. I believed that many parents don't mind to pay a little extra just to get whatever best available in the market, right? We are always on the look for a highly innovative product especially on the ingredients, wanting to make sure that everything from BL Bifidus, Prebio 1, DHA, SPH, ARA, SA, enerygy, proteins, vitamins and minerals are all included.

And yes, Neslac Excella Gold provides it ALL~! =)

Anyway, back to
Excellence Begins Young
, do you know that the page is platform for many interactive activities?

They have
Child Development Tracker
(in Adobe Flash you~! Syiokkk)

where you can see your little sweetheart
milestones
at different stages of growing life. It's like a standard guidance for you to refer about
children development
in term of movement, speech, skills and cognitive, say at age of 11 months young.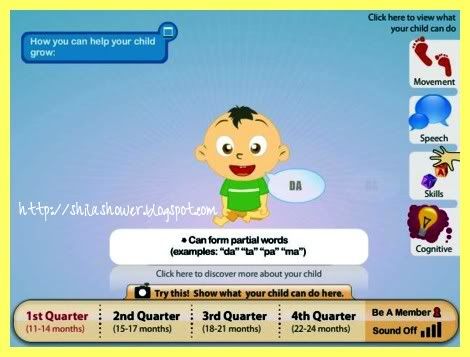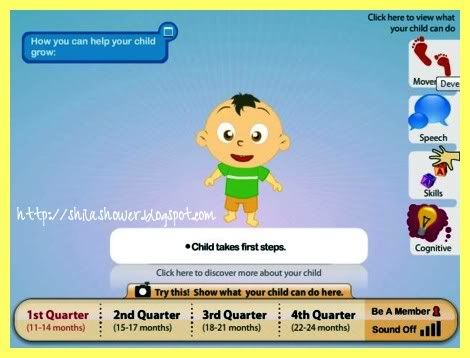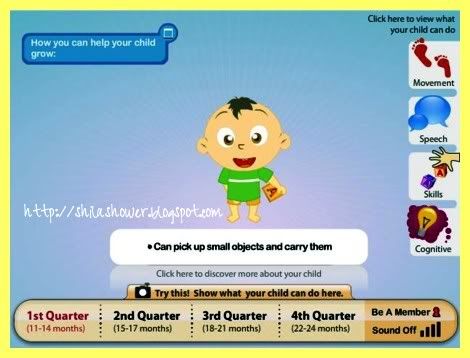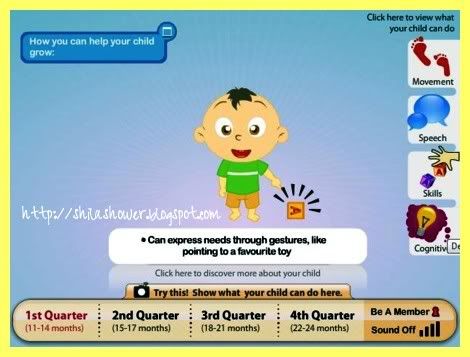 Not only that, they are also giving a useful tips on how to nurture this milestones for example,

1. Use nursery rhymes and jingles to introduce words (and this is what I do now, hihi).
2. Play games that help to stimulate mind, like "Peek-A-Boo".
3. Continue to introduce new foods of different flavor, color and texture.

And if you noticed on the camere icon, saying, "Try this! Show what your child can do here", this is actually a link to their Facebook Fan Page where there is an application to design and decorate your little sweetheart photo AND here the best part: the first 1000 to create the photo of your child will get the photo printed, framed and delivered to you~! *I've done mine, what about you?* =) So, here another free gift number 2! Aren't they cool?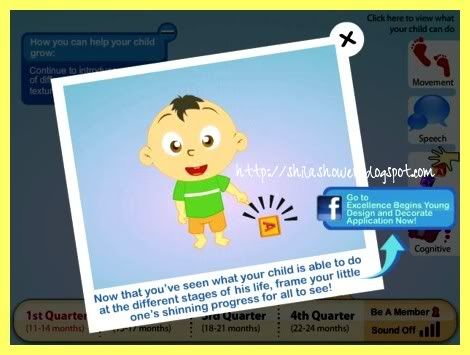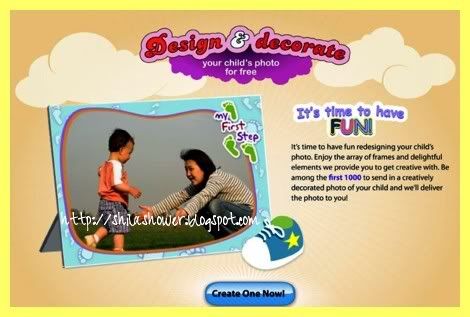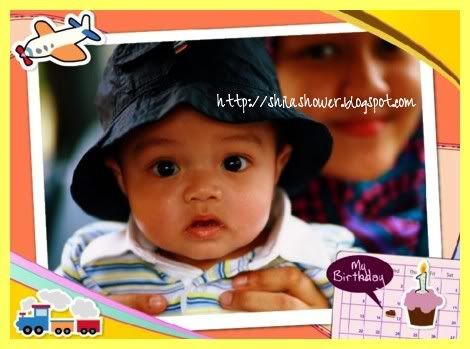 Here another interesting part. I did a quiz on Facebook!

*In fact, I even uploaded and tagged a folder of pictures on Facebook last night, so 100 points for me*

Hehehe. Well, knowing that I'm not an avid user of Facebook kan? =P Okels, the quiz that I did was "Is my child an Abraham Lincoln or Gandhi?". It's a fun quiz on which famous historical figure your child may share similar characteristics with. Well, sort of a quick glimpse into what your future star may hold. =)

Guess what I got about Adam Haris? and I found it very true. ;)
"Your child is emotionally adventurous like Christopher Columbus and an intellectually humble leader like Gandhi."


Christopher Columbus
Your child has an adventurous personality. He loves the outdoors and is curious about the world around him. He also loves meeting new people and is not afraid to explore new things. Your child is strong, courageous and independent. Much like the great explorer, Christopher Columbus, who was one of the greatest explorers and discoverers in world history as his adventures led to the discovery of the American continent. So, do continue to help develop your child's adventurous personality using his interests in exploration and adventure. Talk to your child and encourage him to tell you about what he has learnt and discovered each day. Play with your child in the great outdoors and read lots of books on adventure to him!
Gandhi

Your child has a sensitive and peaceful personality. He is likely to be more truthful than most children as he has a strong sense of right and wrong. While gentle and quiet in nature, he is very much spirited, intelligent and when the occasion calls for it he'll persevere at trying to overcome hurdles like matching blocks into its correct shapes. Much like Mahatma Gandhi who was insightful, extremely determined and a faithful leader with great humility. You can encourage your child's peaceful nature by taking him for walks and teaching him about his surroundings. Nurture his sense of responsibility through simple and fun activities like placing his toys back in their rightful place after play or teaching him about love and care through rearing little pets like fish or tortoises.You can reinforce your child's leadership skills by complimenting his sense of responsibility and goodness.

Done with above two, comes the number 3,
Flash Card Corner!
Kids love
flash card
, don't they?
Flash card
is a powerful tool for children learning and development. It helps to stimulate their brain by showing these bright colors
flash cards
to them. In this
EBY website
, you can find various
colorful flash cards
that are categorized into shapes, colors, fruits & vegetables. In my case, Adam will definitely gets excited everytime I flashed him the card on my laptop. Obviously, he may not fully understand it now, but with repetition, I believe he will definitely learn as he grows.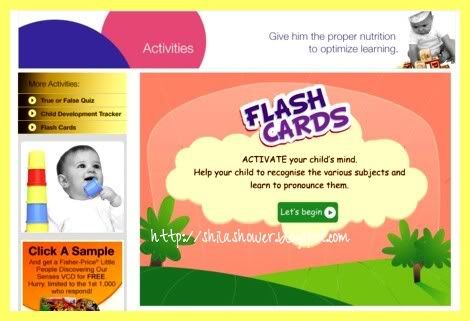 And the final part I would love to highlight to you mothers out there, the
Expert Corner
. Well, we mommies always have a never ending list of what this, why that things right? So, by referring to this section, it helps to answer to our question and concern especially on
child's nutrition, development
& everyday growing up activities.

Besides auditors, mommies are inquisitive too!

=)



Wow!

I just realized that this is a super long entry. =) But very informative kan kan?

So, in conclusion, there are few things that I would love to suggest:
1. Don't forget to visit
Excellence Begins Young
and spend your time to explore all the wonderful activities right there.
2. Go get your free sample of NESLAC® EXCELLA® Gold today! Don't forget to choose Sample B okels mommies?
3. Get your honey-bunny photo printed, framed and delivered to you, FREELY~!


Nestle
is awesome~!