Believe it or not, I've taken quite a new interest in cooking lately and remember, the way to man's heart is through his stomach? Aha, old school belief, I know but it's true~! For no specific reason, I just found that home cooking is a uber-strong-tool to men's heart. So, I cook with love.

I'm just a beginner in this field but surely, I am making my way to become a kitchen goddess someday. Eventhough the meals that I prepared are far less than perfect, but I cook with love, so this makes the difference. :) After all, cooking is a trial-and-error process and there's always a room for me to make mistake

*and improve jugaklah*.

I mean, the more I cook, the more I will learn, because at least I have some insight on what does and doesn't work at all.

But hello, it doesn't mean that you have to do things *cooking in this matter* so that your partner will stay, it just a way for us to complement each other. Of course we need to have other important values like respect, tolerate, trust, honesty, loyalty and etc to make the relationship last a lifetime.

And I got this short note from a friend saying,

"kissing and sexing don't last, cooking do"

. Betul tak? ;)

Anyway, below are two dishes that I made for dinner last night and breakfast this morning. Hahahaha. Jangan gelak. The meals were prepared for a man who is strictly on diet. Ahaks! So, I'm on the safe side now for not having to crack my mind and to mess the kitchen for a plate of nasi-kari. =P

ShilaShower Grilled Chicken Wrap
(Seriously I made this without referring to any recipe. Hentam whatever there in the kitchen).



Lubnan Bread (I bought this at Village Grocer, BV)
Chicken Breast
Salad
Tomato
Cucumber
Chilli Sauce
Mustard
Mayonnaise
Cheese
Lea and Perrins Worcestershire Sauce
Rosemary Leaves
Chillies Ground
Black Peppercorns

1. Cut chicken breast into small pieces and marinate with Lea and Perrins Worcestershire sauce, rosemary leaves, chillies ground and black peppercorns for 45 minutes.
2. Chop salad, tomato and cucumber and mix well. Set aside.
3. Grilled chicken on grilled pan until nicely browned and cooked through.
4. Spread a layer of chillie sauce, mustard and mayonnaise on the bread.
5. Add chicken, veggies and top with cheese. Wrap it up and auto heat in the microwave for 1 minute.
6. Your grilled chicken wrap is ready to serve!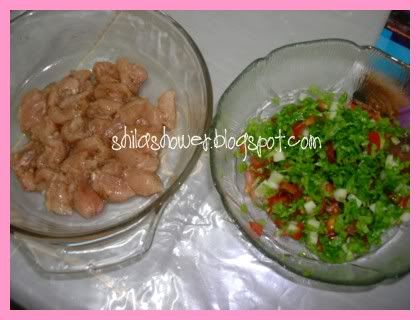 And this one, for the breakfast today. Recipe taken from MamaFami. :) Meriah tengok list resepi itu. +P

Sausage Bread Rolls

Sausage (Auto cooked using microwave. Hahah. Malas nak poach)
Gardenie bread
1 Egg - lightly whisked
Bread crumbs
Oil for frying

1. Roll thin each piece of bread.
2. Place sausage on bread and roll.
3. Dip the roll in the egg.
4. Coat the roll with bread crumbs.
5. Fry until golden brown.
6. Ready to serve!

Simple things to try but definitely in good taste. :)