Looking for a perfect piece of scarf for your everyday use?

Or looking for a way to transform your plain boring attire into more chic and feminine ensemble, without having to break the bank?

Yes you can. Make your everyday looks up notch with stylish silk scarves from

Muscoude

, a muslimah inspired couture and design online shop. They are offering a wide range of beautiful silk and silk polyester scarves that fit your budget and style.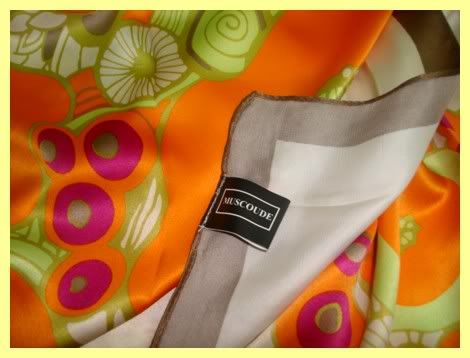 I am so in love with the designs and I can't decide on which to grab! Rich silky scarves with exclusive floral designs AND price at only RM45 to RM55 each, how can I resist on it? It's like a way of looking rich and elegance at an affordable cost, hihihi. The patterns and the colors are very much to my liking and this is just so different from many others out there. And owh, the soft supple texture, it matches my taste perfectly.



You can never go wrong with this pretty silk scarf and plain blouse/shirt. I mean silk scarf is kind of fashion piece that never go out of trend, kan kan? And over the years, I believed silk scarf will still remain beautiful as it is, it doesn't shrink or loose its shape. :)

So, feast your eyes over the collections of beautiful scarves on the website:Muscoude. And don't forget to grab the free shipping deal with a minimum purchase of 2 scarves from 8th-31st December 2009. To me,

Muscoude

offers just as pretty and silky smooth scarves as those from expensive hijab stores like Arzu, but at much much lower price.

Satin polyester is priced at RM45 per piece, 100% silk scarf RM55 and oblong silk at RM50 each, not a bad investment for a thin piece of scarf :) For the price that you are going to pay and the quality offered, definitely it's worth every bit.

One more thing!

Err, I don't know why but maybe the gift box, the scarf's classy sense and the luxurious soft material, have made me feel like this is Malaysian version of TR but with better quality. Seriously. Tehehehe...